Shrubs are an excellent choice when you want to add a splash of color to your garden. They come in a variety of colors, ranging from white to red. Just consider your garden soil conditions and the climate where you live to pick out shrubs that can thrive in here. Many of these shrubs produce gorgeous blooms, making your garden more charming. These are additionally appealing to bees, birds, and other beneficial pollinators. So good!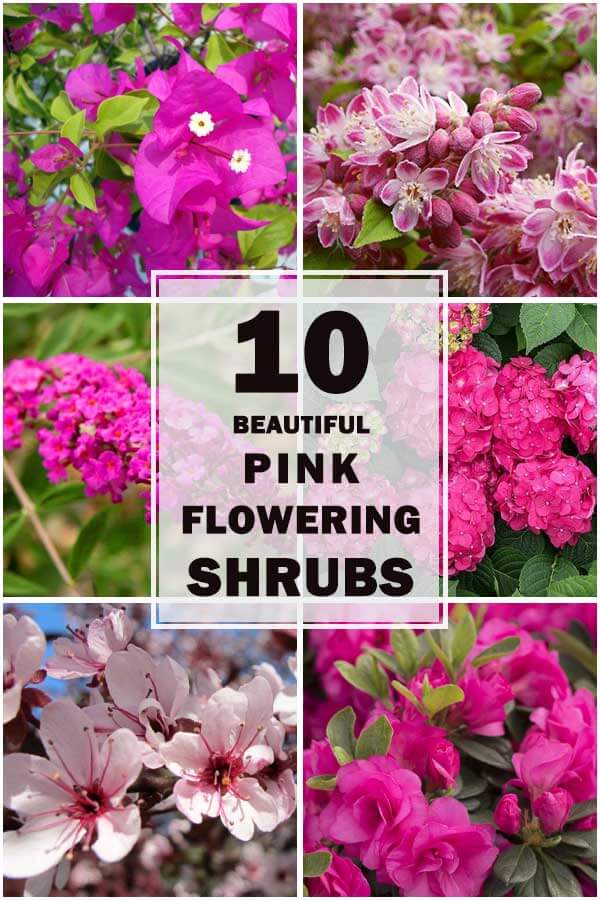 In this post, I'm glad to share 10 beautiful pink flowering shrubs to spruce up your garden. If you are itching to pink plants and want to spruce up your garden space, these are the way to go. Most of these pink shrubs are low-maintenance, making them perfect for both lazy and busy garden owners. Some of them are perennial, so will return your garden year after year, even with a larger scale. Let's check them out!
1. Rose Daphne
This calmer, light pink flowering shrub surely adds more brightness and tranquility to your space. If you're obsessed with pink flowers, just spend a garden spot for this shrub.
2. Bouganvillea
Bouganvillea blooms in different shades of color, ranging from pink to white. Just choose the variety that best fits in your garden style. You can also plant this hot pink flowering plant on the garden wall, and pergola. It will liven up the space here.
3. Azaleas
My favorite pink flowering plants for the garden is here. Their beautiful flowers not only persuade us but also attract beneficial pollinators to the garden. Just spend a spot in your garden for it!
4. Weigelas
You can find weigelas in different shades of pink, ranging from light to magenta. Just pick out the variety that you prefer and best thrive in your garden soil conditions.
5. Deutzia
There are several cultivars of deutzia, including 'Yuki Cherry Blossom,' that produce lovely pink flowers and lovely fall foliage. It only reaches about 2' tall.
6. Hydrangea
This gorgeous pink flowering shrub thrives in both your garden and containers. Once blooming,  its flowers surely spruce up your space. I love picking a few fluffy hydrangea heads to add to my dining room table.
7. Butterfly Bush
Butterfly bush should never be ignored in this category. Their beautiful blooms are a magnet for butterflies. They also smell divine! Mix this shrub up with white or lavender colored ones and you have a nice, inviting pollinator heaven.
8. Elderberry
'Black Lace' and 'Black Beauty,' bears lovely pink flowers anytime between the early spring and mid-summer. This creates a charming contrast with the dark leaves of the plant.
9. Sandcherry
Sandcherry also comes by the name Cistena Cherry. This shrub produces beautiful pink cherry blossoms in the spring, and can grow up to 10 feet tall, leading many people to regard it as more of a small tree.
10. Rhododendron
This hot pink rhododendron creates a charming contrast with white picket fence. Your garden and backyard fence will then grasp the eyes of everyone passing by your house. Ready to bring them home?