Seeking something cute to grow in your garden, garden containers and backyard? This post is right up your street! It introduces 10 cute miniature vegetables and fruits for your garden. Feature unique size, these veggies and fruits would be striking when they produce. Wild strawberries, for instance, drives both my kids and I crazy. They appeal us with their adorable shape and color. There is so much fun to enjoy them!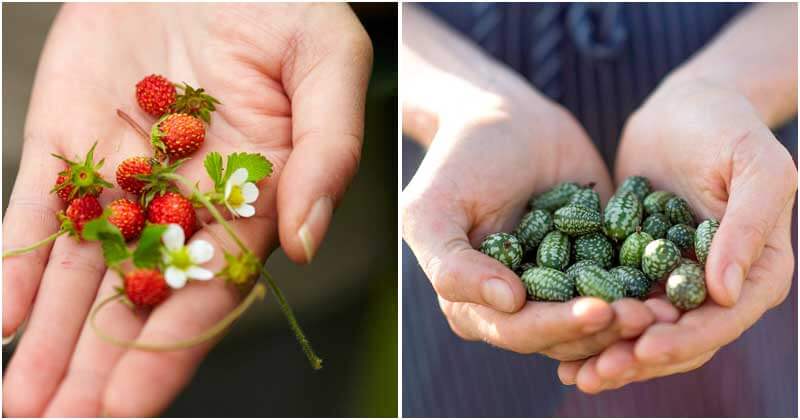 If you're obsessed with miniature things or love gardening, you should give these mini-version vegetables and fruits a try. They're all familiar to us at larger size and shape. When coming in this tiny form, they're easy to grasp out attention. Some are even a stunning garden décor for DIY project. Let's check them out!
#1 Wild Strawberries
Also called alpine strawberries, wild strawberries are much tinier than the strawberries you see in the grocery store. The plant has large, lobed leaves and tall stems that hold the fruit above the foliage. It blossoms gorgeous white flowers in the spring and fruit appears throughout summer months. Deer and rabbits love to nibble on these plants.
#2 Kiwi Berries
These baby kiwis are a healthy and fruity snack. They look like kiwis without the coarse, brown skin. These kiwi berries are packed with vitamin C and are best eaten when they are slightly soft to the touch.
#3 Pearl Onions
Love these cute mini onions? They're commonly added to stews. Pearl onions usually only grow to be about an inch in diameter. They grow similarly to full-sized onions, but this variety matures faster. If you are looking for vegetables that are quick to harvest, these are right up your street!
#4 Patty Pan Squash
Patty pan squash is sometimes called scallop squash. This summer squash is typically harvested when it's between only two to four inches wide. They are shaped like flying saucers and have a mild taste, similar to zucchini.
#5 Thumbelina Carrots
You can harvest these thumbelina carrots when they're just the size of a golf ball. This varriety is a short and stout and doesn't have the classic, tapered shape that most carrots have. No need to peel its skin before you eat it.
#6 Fairytale Eggplants
These miniature eggplants are so cute. They pack just as much flavor as a full-sized eggplant. You can harvest "Fairytale" eggplants when they are four to five inches long and are notable for their purple-and-white patterned skin. They grow well in containers and do best in full sun.
#7 Cucamelons
Cucamelons look like little watermelons but taste like a mixture of limes and cucumbers. They're so adorable cute, and also full of antioxidants and vitamins that have earned them the title of 'superfood.'
#8 Miniature Bell Peppers
Miniature bell peppers are just a dwarf variety. You can easily start these plants with the seeds. They do very well in containers, but be sure to keep the containers up high to keep hungry rabbits from getting a taste.
#9 Kalettes
Kalettes is also known as kale sprouts. They're are a hybrid of kale and brussels sprouts. The small florets of foliage are much easier to manage when cooking and can be eaten raw or cooked.