You love eating salads made out of green vegetables, you are in the right place to get your own organic garden. In the post today, we've listed the 10 Fast-Growing Salad Vegetables To Harvest For A Short Time that you can enjoy your favorite salad dishes all season. They are the easiest to grow vegetables with require basic care. In addition, this veggie has a short-time growing process, so you will harvest the first green leaves quickly for your daily meals.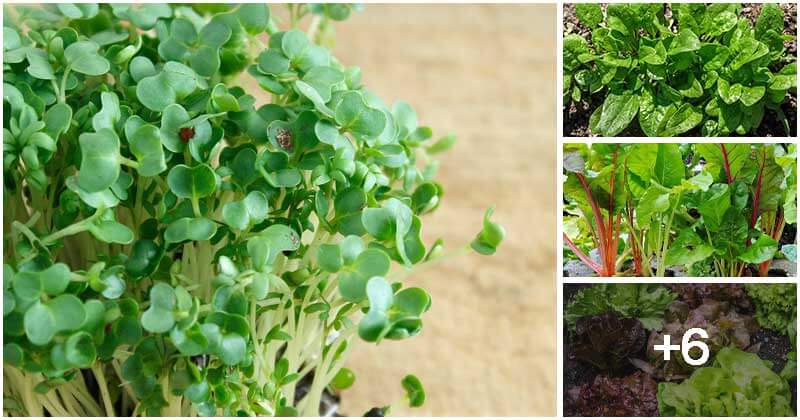 If you live in an apartment, you don't have more space to grow them, you also have your own green vegetable garden right in your living space because there are many salad greens and sprouts that grow well in containers in your kitchen windowsill or benchtop. Growing them by yourself, you will have the best taste for your crunchy salad flavors. Now, tasty and organic salad vegetables are ready for your favorite dishes in flash. Let's check them out!
#1 Arugula
Source: Harvesttotable
Arugula is a fast-growing, slightly bitter salad green from the same family as broccoli and kale. Growing after in about 40 days, it is ready to harvest.
#2 Kale
Source: Thespruce
Kale prefers cool weather for its best growth. You can harvest this vegetable after growing about 25 days.
#3 Cress
Source: Harvesttotable
Cress is ready to harvest just in about 5 to 7 days after planting. The growing process is so easy to make, sprinkle the seeds onto a moist paper towel, and after a couple of days when the seeds have sprouted, move it to a bright windowsill. Or you can grow it in a pot for a bit longer for larger seedlings.
#4 Baby Spinach
Source: Goodhousekeeping
Baby Spinach is ready to harvest in a short time from 4 to 6 weeks. This vegetable is an ideal cold-hardy salad vegetable to provide some greenery to your meals during the winter months.
#5 Lettuce
Source: Almanac
Lettuce matures in 45 to 55 days to provide some greenery for salads and sandwiches. You can harvest its outside leaves without waiting for the plant to grow to full size though.
#6 Chicory
Source: Morningchores
Chicory has a rosette of green leaves with a bitter, spicy taste. When it matures, it's the time of harvest, let's cut it just above the soil level and it will quickly re-sprout.
#7 Swiss Chard
Source: Thegardeningcook
Swiss Chard produces edible leaves and stalks that have a slightly bitter taste. After growing about 50 to 65 days you can start harvesting a few of the outside leaves.
#8 Microgreens
Source: Vegbed
Microgreens just take a week to mature, and when they have about four leaves, you can snip them off with a pair of scissors to harvest them. Some of the quickest growing microgreens are broccoli, radish, and cress. To grow, fill a small tray with potting mix and sprinkle the seeds on the surface, and place the tray on a sunny windowsill and keep the soil moist.
#9 Beet Greens
Source: Nutritionadvance
Beet Greens not only give fresh roots but also produce edible leaves to add to delicious salads. After growing about 45 to 60 days, the plant starts producing green leaves with about 6 inches that you can harvest.
#10 Alfalfa Sprouts
Source: Superfoodevolution
Alfalfa sprouts are fast-growing and ready to harvest in about 5 to 7 days. To grow, add a tablespoon of alfalfa seeds to a sprouting jar or a glass jar covered with gauze or cheesecloth, fill the jar with water and then let the water drain out, then do this every day until the sprouts are ready to eat.