Obsessed with red flowers? Looking for flowering plants that can spruce up your garden? This post is right up your street. It shares 10 gorgeous red flowering shrubs for gardens. These will be striking in your garden with their fragrance and beauty. Some are excellent to grow in border and garden edges. These will give your home a more attractive look.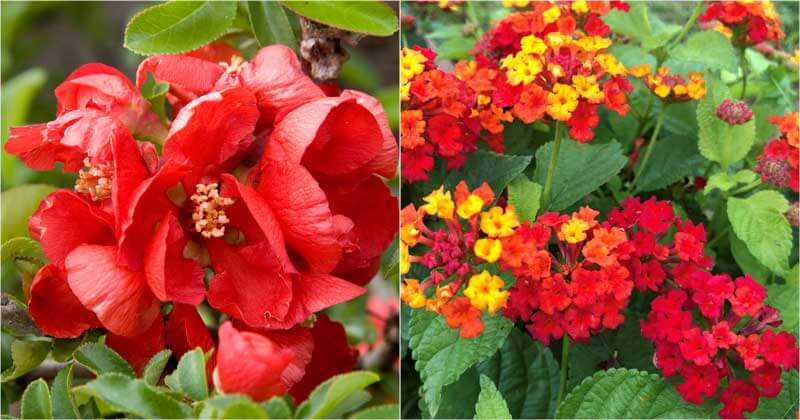 These shrubs are perennials, so will return your garden year after year when getting proper care. They also attract birds, bees, and other beneficial pollinators to your garden. Then your garden plants can receive great benefits from this. If you prefer natural gardening methods, you should never skip these beautiful red shrubs for your garden. Some also bloom in different shades of color, along with red, making your garden your attractive. Let's check them out!
1. Texas Scarlet Flowering Quince
Texas Scarlet Flowering Quince comes first in this collection. This shrub produces gorgeous red blooms that attract birds and butterflies to the garden. It's drought-tolerant and will put on a complete show. You can grow it in the front of your property, or close to your front door. It will be a focal point.
2. Chilean Fire Bush
Looking for a beautiful shrub that creates privacy for your backyard? Chilean Fire Bush is an excellent choice. This fast-growing bush is great for mild temperature areas. It produces beautiful flowers in the summer and greenery in the winter.
3. Red Knock Out Rose Shrub
These gorgeous rose shrubs will be a focal point in every garden. They bloom beautifully from May till the first frost, thrive in all climates, and are disease resistant. If you love roses, do not hesitate to bring it home.
4. Bloom-a-thon® Red Reblooming Azalea
This gorgeous reblooming azalea shrub blooms all summer long. Blooms first appear in April, and then again in July. This shrub is great to plant in borders, but also does amazingly well potted up on your porch too!
5. Cherry Explosion Hydrangea
This red hydrangea shrub is an excellent choice for low hedges, or to add a pop of color to your garden or porch. It blooms gorgeously from summer all the way through winter. They go from cherry-red to deep pink, then mauve, and finally, dry up.
6. Bougainvilleas with Red Flowers
Once blooming, this shrub will provide an explosion of color to your home. They prefer to bask in the warm sun, and tend to grow quite quickly and will do well in zones 9-11. You can find them in different colors and sizes.
7. Red Flowering Maple
This flowering maple is valued for its interesting, ornamental-looking leaves and red patterned flowers that hang gently. Its name suggests the maple shape of its leaves. This shrub does well in zones 8-10 and will require partial sunlight.
8. Mexican Bird of Paradise
Mexican Bird of Paradise shows off all of the feisty colors you would expect from the name. It produces lovely flowers that are a mixture of red and yellow and can grow as large as 15 feet. Once rooted, this plant will require a good amount of watering.
9. Crimson Bottlebrush
Crimson Bottlebrush is also known as lemon bottlebrush. It's a member of the myrtle family. This shrub does well anywhere from 8-14 feet in height and it is in leaf all year but flowering through the majority of the summer months.
10. Lantana Shrub
This radiant shrub is typically a rich, red-orange hue and often have tinges of yellow coloring. It adds a vibrant splash to your garden. The lantana shrub will thrive during the hottest months of summer at a time when many flowers may wilt or wither.