Each indoor plant is a great gift of nature, they are an excellent green addition to the home. That is the reason why we are so glad to share useful information and tips about them. The article today is about 10 grow-in-door trees for your home. With these ideas, they are not only changing the tone of a room or purify the air but also bring luck and health for homeowners. There are many reasons why you should grow indoor plants for your home.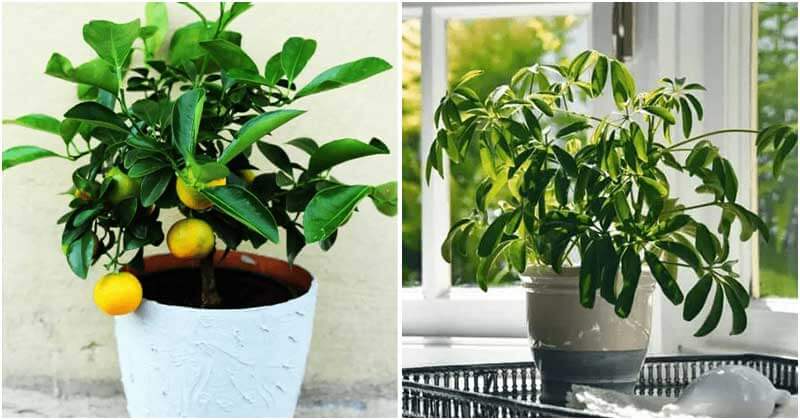 They're great to sit any corner of the house. For example, you can put them in the living room or kitchen, on the porch, or near the window. They will all make you satisfied with the landscape around the house. And if you are worried about how to take care of them? They are easy!!!! You only need water to keep the moisture in the soil and put them outside in the sun one day for a week. If you do not like this inconvenience, you can place where they can get enough light about 4 hours to 5 hours per day. Just take them a look, pick out some of your favorite and grow them. Let's check them out!
#1 Umbrella Tree (Schefflera Arboricola)

You can place this umbrella tree on a desk at office, on a drink table at home.
#2 Calamondin Orange Tree

You can grow this plant inside at all time without sunlight. It has white flower when blooming, and tiny sour fruits. All make your home more vivid with this beautiful outstanding.
#3 Dumb Cane (Dieffenbachia)

The foliage on this plant is wonderful. It is a harmonious combination between pure white and cool green. However, one thing to keep in mind though, this plant is toxic if ingested so keep away from children and pets.
#4 Yucca

Yucca is a native to the desert so it is very drought resistant and you can water sporadically.
#5 Guiana Chestnut (Pachira Aquatica)

This tree is braided in pretty cups for decorate on a desk. They will grow better in a soil than in water.
#6 Fiddle Leaf Fig

The tree is trendy that you often see them in design magazines. They are styled for shots on social media with their beautiful leaves that are wide and textured.
#7 Rubber Plant

With the rubber plants should put it in bright indirect light and water about every week but don't let it get soggy.
#8 Jade Plant

You should plant the tree in a well-draining mix and give it conditions that are dry and warm. The soil is moist but not soaked. If leaves shrivel it needs more water than you are giving it.
#9 Parlor Palm (Chamaedorea Elegans)

Parlor Palms look awesome inside the house. They can, however, be a target for spider mites so you should use some insecticidal soap. Parlor Palms can handle low light and sporadic watering.
#10 Weeping Fig (Ficus Benjamina)

This weeing fig plant really doesn't like being moved around a home and easily drop leaves. They don't like changes with temperature or light. Once you've got a good spot just leave it there. It will reward you with beauty.