Your backyard is sloped, it is so dangerous when the rainy season comes, right? Don't worry, in fact, there are a ton of ways to fabricate a beautiful scene out of your sloped yard which would even overshadow a flat garden. In this post today, we will share awesome hillside landscape ideas that can inspire you to transform your yard. It's time to change the look of the landscape of your backyard with these hillside ideas, learn about them with us.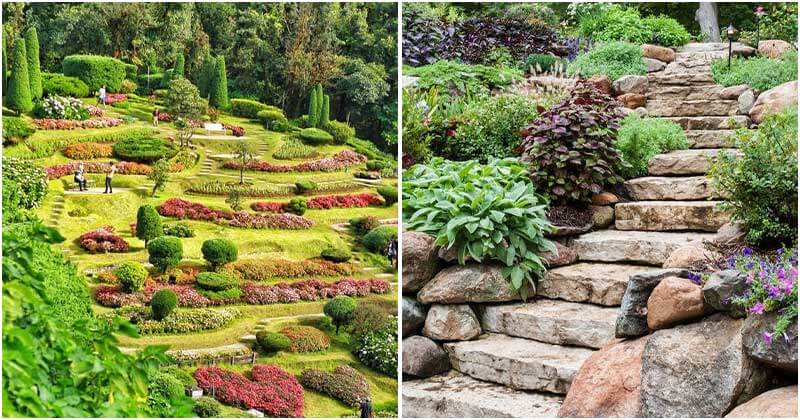 Taking them a look you will see that they are so beautiful and impressive. Making one for your backyard means you not only change the boring backyard but also you make your garden looks great that easy stone any heart when seeing for the first time. What is more, exhausting and difficult walking will be solved. If you are interested in these ideas here, let's save and make one for your sloped backyard right now!
#1 A Rock Garden on a Hillside

A great procedure to prevent the plants from washing down the slope is to use natural stone rocks to anchor the soil. This way, the plants can hold in place till they grow. Spread the rocks randomly to give your hillside a more natural look.
#2 A Hillside Flower Garden

Emphasizing planting flowers in your hillside garden will add life and beauty to the scene. You can grow a variety of flower types and colors in even quantities. You'd also want to vary the growing height of the flowers on each level.
#3 Landscaping a Hillside using Planters

Planters make your garden much easier to maintain. They're especially useful for slopes that are too steep since you obviously won't have to worry about the soil running off. Over and above that, they also make watering the plants more convenient.
#4 Approaching the Slope

The approach of a slope is just as important as the slope itself. In this design, the path to the slope is surrounded by plants and retaining walls. Adding a resting spot such as a bench can really polish up the design while also offering a breather before going up the stairs.
#5 Ground-covering on a Hillside

If you've got a gentle slope or berm that links a wood-covered area with your open yard, you can create a seamless transition using groundcovers that will look like a colorful mat.
#6 Using Rocks to Staircase Your Yard

Don't want to use artificial-looking stairs for your hillside yard? Try using rocks instead. This will give your hillside yard a zen look and feel.
#7 A hillside Garden With Low Maintenance Plants

All of these plants will prevent soil runoff and require very little maintenance when they're growing.  Think carefully when you're choosing which plants to grow. This way, a hillside will be the highlight of your yard and even your whole home.
#8 Using Curves for Your Hillside Yard

Forget stair. You can level your hillside yard using a curved path that takes a spiral shape. This would be especially suitable if your yard is too wide without being long enough and with a slope that's not too steep.
#9 Adding Water to the Slope

This is another interesting idea for landscaping your hillside yard. Using water will add motion to the scene, creating a beautiful dynamic view. Moreover, the sound of the water will create a soothing and relaxing atmosphere in your yard.
#10 Making a Garden Walk out of your Hillside

What would be more beautiful than turning your hillside yard into a garden walk? You can easily accomplish this by terracing a walkway using stepping stones.