Owning a vegetable garden is a great way that you can live sustainably. It brings many benefits such as close to nature, adds fresh beauty, creates a sense of comfort, and comfort for lives… Or simpler, you don't have to get out much for groceries because you can just grow them in the backyard. If you lack space, you can still grow your favorite vegetables according to great ideas in the post today.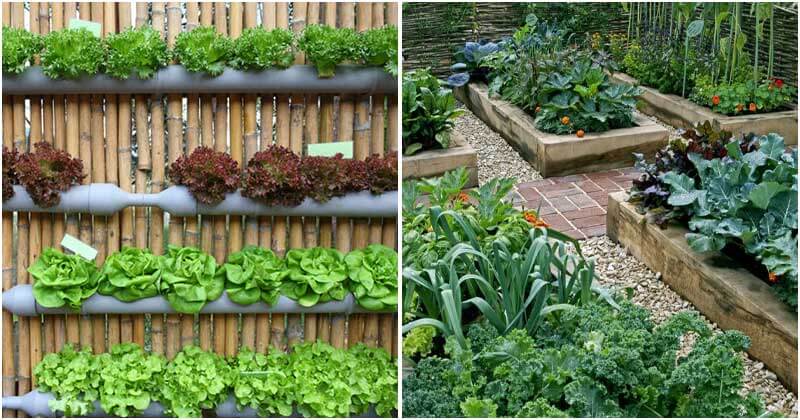 Taking them a look, they are interesting with the various designs here, right? Basing on these ideas, you can find suitable ideas that not only bring new beauty but also add charm to your home. Moreover, growing your own food also means you know where it comes from and you know exactly how it's grown and what goes in it. Let's save on your grocery bills with vegetable garden ideas here. It's time to check out.
#1 Hanging Gardens
If you want to save some space, a hanging vegetable garden is a great idea. You can hang wooden planters and plant a variety of veggies in each.
#2 Bed of Vegetables
When growing a variety of vegetables, they might look unsightly and messy. However, you can still go for vegetable patches on your manicured lawn, as long as you see to it that you keep up with the maintenance.
#3 Vegetable Pallet
Wooden pallets are excellent as stylish planters for your vegetable garden. If you need vertical gardens, pallets are a great material for your DIY project.
#4 Vegetable Garden in a Box
A vegetable box is one of the simplest vegetable garden ideas you can go with. With an old crate, you can already re-purpose it into a box garden filled with different kinds of greens.
#5 Raised Beds
Raised beds make your vegetable garden look clean and part of the landscape. Moreover, in this way, you can protect your veggies from wildlife that may be interested in them.
#6 Vegetable Room
A vegetable room can also mean greenhouses. The humidity in greenhouses is ideal for the healthy growth of vegetables. Your greens tend to thrive more inside than when they're in an open space.
#7 Table Garden
Another idea to grow your favorite plants. That is planting tables. Planting tables may be portable and you can easily move them around but they tend to be shallow and are not suitable for veggies that need more space beneath the soil to grow.
#8 Green Wall
You love growing but your space is limited? Don't worry! Putting wall planters is the solution. Other than hanging your plants via wooden planters on a metal frame, you can also screw them on the wall.
#9 Vertical Garden with Pipes
Another idea to save space with vertical gardens is to place your produce in pipes.
#10 Container Garden
This is one of the most common vegetable garden ideas. Putting produce in containers can be an opportunity for you to showcase your collection of unique and beautiful containers. You can reuse old items by giving them a new mission.