We've been familiar with plants that produce green foliage. Vegetables and herbs that we eat everyday, flowers that liven up our garden, tropical fruit trees that are at harvest season these summer days,.. there are many we can find and see. This post, however, offers something that is surprising to you guys. It shares 12 beautiful plants that have silver foliage. They're perfect for a brighter, cooler color garden.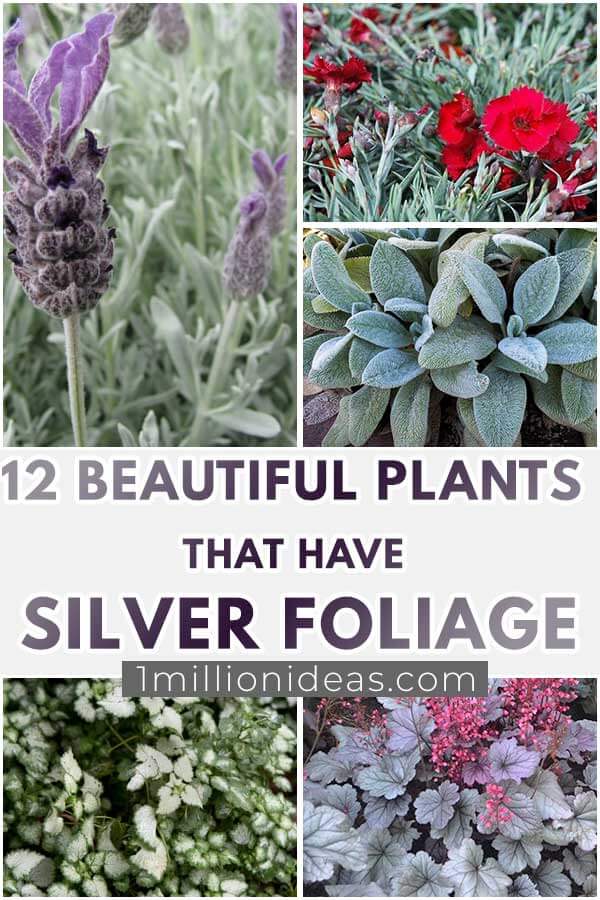 These silver foliage plants are a great addition to your garden. Imagine how stunning they are when standing alone in your garden? Some of them are commonly grown in your garden, sage and lavender, for instance. If you are looking for plants that bring difference or contrast to green foliage plants, just give these a try. Some appreciate sunlight for their healthy growth while some thrive in shade. Let's check them out!
#1 Lavender
Lavender is one of the most fragrant herbs. Its purple blossoms would be striking in your garden when coming into their time. Pairing with silver foliage, this plant looks pretty good. Some dried lavender cuttings are enough for a beautiful home decor.
#2 Stachys
Stachys is also called Lamb's Ears, Woundwort, and woolly hedge nettle. They are perennials with gray or silver-white silky hairs. They attracts many insects, hummingbirds, and bees.
#3 Dianthus
You can call Dianthus as Pinks. This plant produces fragrant blooms and attractive silvery leaves and stems. It's great to plant them in the front border.
#4 Perovskia
The common name for Perovskia is Russian sage. It is a woody-based perennial of the mint family. This plant grows to 2 to 4 feet tall, and produce gray green leaves are finely-dissected and aromatic.
#5 Lamium
Lamium is also called spotted dead nettle. It is a fast growing ground cover for shady or part shady gardens.
#6 Heuchera
Heuchera are sometimes called coral bells. As the name may suggest, this plant has mini bell shaped flowers. It also comes in many foliage colors, including, red, orange, purple, green, bronze, and silver. This plant is appealing to hummingbirds but resistant to deer.
#7 Fern
Fern can not be missed in this category. Most of them are shade loving perennials for woodland area gardens but some can thrive in sunny gardens.
#8 Pulmonaria
Lungwort and Bethlehem Sage are other common names of Pulmonaria. An evergreen or herbaceous perennial that forms clumps or rosettes. Covered in hairs of varied length and stiffness.
#9 Lunaria
Lunaria is also known as honesty. It means "moon-like" which refers to the translucent, disc-shaped seed pods in Latin. Leaves are hairy toothed with racemes of white or violet flowers in Spring and Summer. This plant is often used in floral arrangements.
#10 Artemisia
Artemisia are silver-leaf plants with fine-textured foliage. They are a sun-loving perennial and great to plant in garden beds and borders.
#11 Brunnera
Brunnera is also called Siberian bugloss and False Forget Me Not. They're an excellent ground cover with light shade. Sprays of blue flowers appear in the Springtime.
#12 Asarum
Wild ginger and Chinese Wild Ginger are two other common names of Asarum. They produce leaves that are kidney-shaped with blooms of small brown or reddish flowers.