Love to build a portable vegetable garden? You may try growing the vegetables in bags. Burlaps, jute bags, sacks, polypropylene bags, hemp bags, and even reusable grocery bags all work in this case. Are you curious about why your plants do well in these? The sides of grow bags are softer than other containers, so they eliminate 'root circling' in plants and also allow the soil to breathe. It's also worth mentioning that these grow bags are cheap, and can be easily packed and stored, when not in use.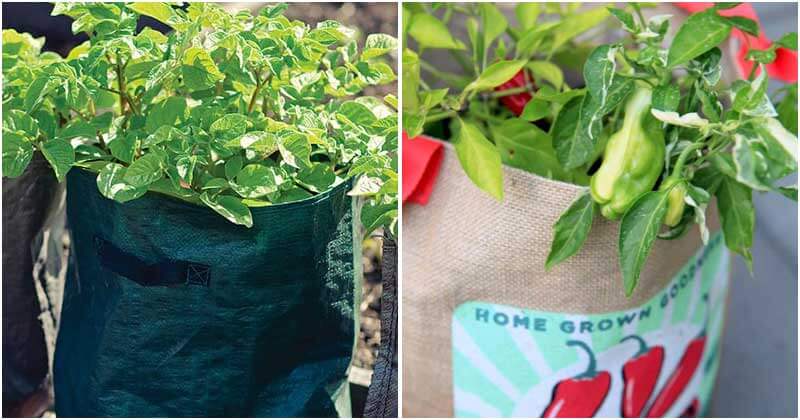 So, here are 12 best grow-in-bag vegetables that you should know. This not only saves you a lot of space but also enables you to grow abundant vegetables. You can also move your planters from place to place easily. Get interested in here? Let's build your bag plant garden!
#1 Potatoes
Potatoes need a lot of room to grow healthily. Potato containers and garden beds must offer enough depth for their plants. And that's why they perform quite well in grow bags.
#2 Radish
Radish is another root vegetable that goes well in grow bags and is virtually trouble-free.
#3 Beetroots
Why not try growing beetroots in growing bags? This is not much different from what you would do with radishes. They grow fast and produce edible leaves.
#4 Carrots
Carrots also grow easily in bags. Just give them plenty of sunlight and little space, you'll have a bountiful harvest in grow bags in no time!
#5 Onion
Onions can tolerate some crowding, so you may try growing them in bags and burlap sacks. You can also plant green onions.
#6 Lettuce
Lettuce has short roots. It means that they can grow easily in shallow shopping bags. Be sure to water more frequently when you place these bags outside.
#7 Tomatoes
Tomatoes should never be ignored in this collection. It's a vegetable that you can grow at anywhere in your home. Indoor garden, windowsill, hanging baskets,……
#8 Chillies
Chilies prefer warm conditions result as it makes them spicier, so plant them early so that they ripen before the end of summer.
#9 Swiss Chard
Along with beetroot and spinach, Swiss chard also grows easily in bags. You can combine it with other plants if you like.
#10 Cauliflower
You can grow cauliflowers on their own or together with cabbage in a big grow bag!
#11 Beans
Growing beans in growing bags is the best way to enjoy them fresh. They thrive in here.
#12 Cabbage
Coming in different varieties, you can even grow cabbage in plastic bags.