Love bringing Midwest breeze to your house? This post is right up your street. It shares 12 best Midwest perennial flowers for your garden. These not only bring beauty to your garden but also return your garden year after year with almost no attention on your part. As such, both busy and lazy garden owners can give these flowers a corner in their garden. So good, right?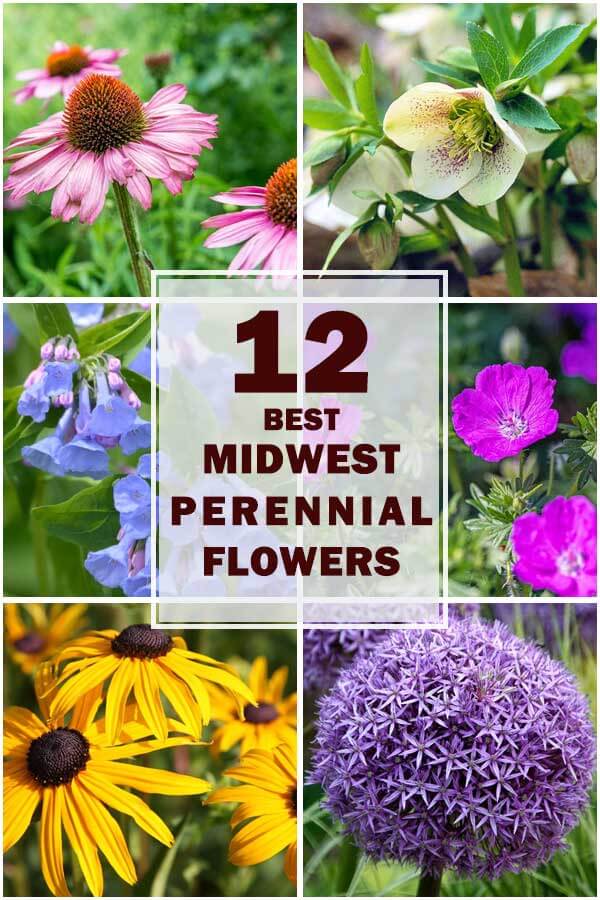 You can grow these perennial flowers directly in your garden. They would be the star here when coming into their time. Some will even create pretty shade for the plants around them. There are also some varieties that can be used for cooking and medicinal purposes. With a little care and budget, you can enjoy these flowers for years. Ready to give these a look?
#1 Coneflowers
Midwest native coneflowers bloom throughout the summer in shades of pink-purple, white, red, yellow and other bright hues. They can grow up to 16 inches to 4 feet tall, depending on the variety. One of our favorites, 'Kim's Knee-High', tops out at 16-20 inches, and doesn't flop over in the wind and rain.
#2 Butterfly Weed
Butterfly Weed is sometimes called milkweed. This Midwest perennial bears clusters of orange, yellow, pink or vermillion flowers in mid- to late summer, followed by thin, ornamental seedpods. It is as easy to grow as a weed, and attract hummingbirds and butterflies (especially monarchs) to your garden.
#3 Lenten Rose
The evergreen and tough Lenten rose is a shade-lover. It often blooms while the snow is still on the ground. You can find their flowers in purple, red, near-black, white, green, and pink. Plant it near a walkway so you can enjoy the show in March.
#4 Virginia Bluebells
Virginia bluebells is a spring flower that blossoms into pink-purple blooms. This Midwest perennial prefers sun or shade and can reach up to 2 feet high and wide. Plant Virginia bluebells behind a summer bloomer to hide the foliage that turns brown and fades by June.
#5 Hardy Geraniums
Hardy Geraniums bears dense foliage and pale-pink flowers with apple-scented spicy perfume. It can grow about 6 inches high and 14 inches wide, and do well in full sun and need little water. Grow your plants in borders.
#6 Black-eyed Susans
Black-eyed Susans produce bright-gold flowers that bloom more than a month beginning in August. "Indian Summer" and "Goldstrum." are two of the most popular varieties to bring to your garden. These Midwest beauties do best in full sun and can reach up 3 feet tall and 2 feet wide.
#7 Alliums
Alliums are a member of onion family. They are easy to grow from hardy bulbs. You can choose Purple allium, Lavender Globe Lily and Turkestan Onion varieties to bring to your garden. They would be striking in here when blooming.
#8 Panicle Hydrangeas
Cloudlike panicle hydrangeas are also worth adding to Midwest gardens. They are valued for their cold tolerance. Plant these hydrangeas in hedges, borders or as a garden focal point.
#9 Sedums
Easy to grow, stingy with water, and rich in texture and shape, Sedums are worth growing in your Midwest garden. They produce masses of flowers and light gray-green foliage, making your garden more stunning. Love these?
#10 Russian Sage
Russian sage is known for its wonderful lacy mix of gray and amethyst. This Midwest perennial plant bursts forth in late summer or early autumn, rising 3 to 5 feet tall. It's an excellent companion to plants such as roses, ornamental grasses or tall sedums.
#11 Goldenrod
This beautiful Midwest perennial flower bursts in September and lasts into October. The popular variety 'Fireworks' (my favorite) grows to 3 feet in full sun. Other varieties reach 2 feet to 4 feet.
#12 Aromatic Aster
Aromatic Aster is native to dry upland prairies. It thrives in dry, clay or rocky soil. Covered with flowers in fall, it makes a strong companion plant to little bluestem grass and goldenrod.