Seeking something strange to grow in your garden? This post is right up your street! It introduces 12 unique vegetables you should grow this year. Their names sound strange to us. Dragon tongue bush beans, brad's atomic grape tomatoes, … have you heard or enjoyed them? If you are engaged in gardening or just get interested in here, give these a try. Some even do well in container gardens!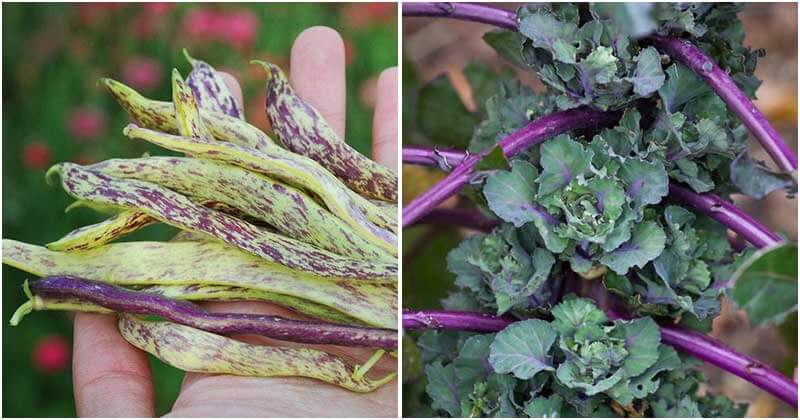 You can also find these vegetables at stores. But they might be at high price as they're still unpopular to us. Why not turn them into homegrown produce? This might take time, budget and effort to care for them. You need also have knowledge of gardening when growing these unique species. But the process is rewarding. You eat what you sow. Nothing is better than that. Your vegetables are fresh and healthy, making them perfect for daily meals and gifts to friends. They do not cost much but the receivers will value these.
#1 Dragon Tongue Bush Beans
Dragon Tongue bush beans are pods with chartreuse and purple patterns. They can be eaten in-pod or shelled. Each pod can grow up to inches long and grows on a compact bush-type plant that stays under two feet tall.
#2 Blue Jade Corn
This corn variety has driven many women crazy! It has sweet taste and features navy blue kernels all over the cob. Each plant grows about 2-3 feet tall, making this variety a good one to grow in containers.
#3 Brad's Atomic Grape Tomatoes
Brad's Atomic grape tomatoes features skin with purple, green, yellow and red streaks. These bite-sized tomatoes is packed with a sweet flavor and grow in clusters on indeterminate plants. You can grow them directly in soil in your garden or give them a structure support for their best growth.
#4 Chinese Pink Celery
Chinese pink celery has lightly sweet and the same crunchy texture as the green celery you find in grocery stores. It's a healthy and delicious snack for you guys.
#5 Black Nebula Carrots
These Black Nebula carrots will add more colors to your plate. They feature a deep purple that almost looks black. Its color stays the same after cooked and has a white center when you cut into it.
#6 Apollo Brokali
The sixth unique vegetable comes in this category is apollo brokali. It has the florets and waxy stalk of broccoli and the lacy, flavorful leaves of kale—all on one plant. The compact plant do best in full sun.
#7 Spinach Strawberries
Strawberry spinach is the next recommended here. It's not only beautiful but it's also tasty. Both the leaves and the berries are edible—you can with just this plant alone.
#8 Oyster Leaf
We are quite strange to oyster leaf, right? This green has a briny, earthy flavor similar to its namesake shellfish. You can start with seeds. It might be tricky but rewarding. Believe us!
#9 Heirloom Pineapple Alpine Strawberries
Heirloom pineapple alpine strawberries have a mix taste of pineapple and rose. They grow on a mounding plant that provides small fruits all summer long. You can even grow them hanging baskets and window boxes.
#10 Asparagus Peas
Asparagus peas are also known as the winged bean. These plants produces ruffled, edible pods once its pretty red flowers are pollinated.
#11 Autumn Star Kalette
Autumn Star Kalette is a cross between brussel sprouts and kale. It has has blue-green foliage on the florets and a deep purple stem. The leafy florets sprout all over a thick stalk.
#12 Silver Queen Okra
Silver queen okra are pale green pods with mild flavor and color. They are great to make stir-fried or pickled. These pods grow to be about six inches long. You should harvest these okra when they're young for the most tender texture.