DIY yarn project is not boring at all. You can definitely make lovely wardrobe, home decor, gift, and holiday items out of this material. Actually, I do not find it interesting at the beginning. This changes when I saw a fringe pendant light at a vintage style coffee shop. I talked to the owner and she said that that light was made by her and her husband. She is a big fan of handmade products and has tried making a number of crafts. Yarn, milk jars, mason jars are here favorite recycled materials.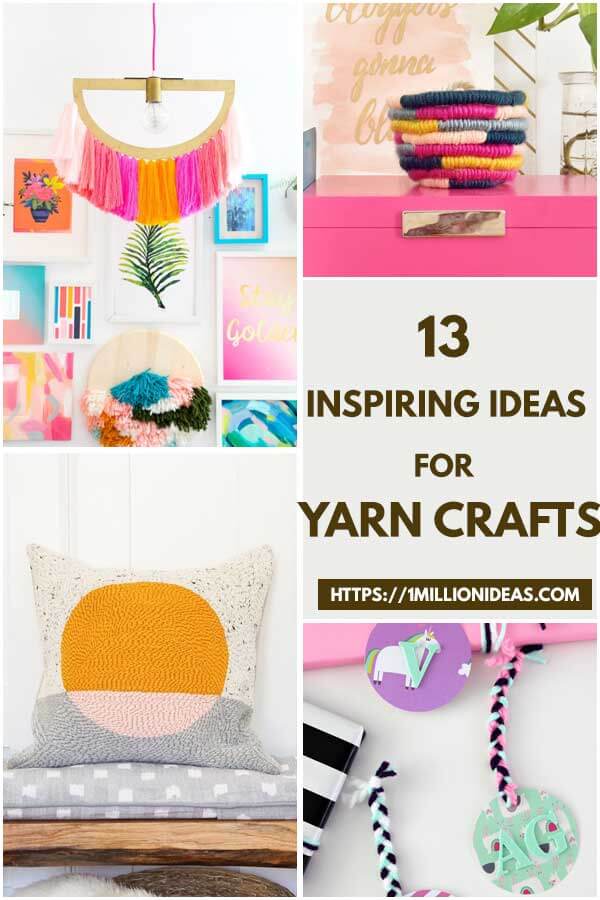 In this post, I'm glad to share 13 inspiring ides for yarn crafts. If you are looking for something interesting to challenge your skills and patience, just give these a try. Some of them are incredibly easy and fun, so you can make them with your kids. It's a rewarding journey. You will have unique crafts to show at your home or give to friends. Let's check them out!
#1 Yarn Gift Tags
A creative idea to make your gifts more unique.
#2 Fringe Pendant Light
One of my favorite crafts made with yarn. If you prefer vintage style, just dress your living room with this.
#3 Wrapped Rope Bowl
Super cute companions for bowls. No need to worry about the heat of the soup bowl anymore.
#4 Fringed Mirror
Want to make your mirror less boring? Decorate it with yarn. It's easy yet impressive.
#5 Rainbow Pom-Pom
Feel free to let your kids involve in this lovely DIY project.
#6 Graphic Pillow
A pillow is your companion for good sleeping. Just make your pillow lovelier like this.
#7 Heart-Shaped Earrings
If you prefer handmade accessories, why not give these heart-shaped earrings a go? There is so much fun to make them.
#8 Monogram Bookmarks
As you crave these lovely monogram bookmarks, you will love to place it into books that you love. A great way to make you read books more often, right?
#9 Yarn Wall Hanging
Simple yet fun, right?
#10 Vase Filler Balls
Super easy DIY yarn project for you and your kids to join together.
#11 Fleece Tassel Blanket
Here is another interesting bedding to make with yarn.
#12 Personalized Gift
A gift that shows your love and patience. Your mother would be amazed at this gift at Mother's day.
#13 Finger-Knitted Wreath
Such a charming home decor!