Maybe the space of your balcony is limited, but don't let that stop you create your own heaven. Balcony plants can be a simple and beautiful way to turn a boring square outdoor space into a verdant extension of your home. Pots full of flowers will attract pollinators such as butterflies and hummingbirds, and planting flowers with fragrance adds another level of enjoyment to your balcony. That is the reason why you should make the most of your space by raising a few plants.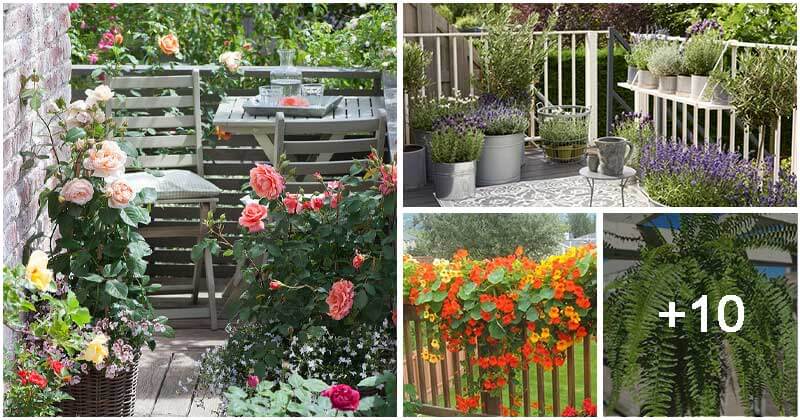 In the article today, we will present the 14 Best Plants To Grow On Your Balcony to start a green balcony garden. Some produce stunning leaves, others are beautiful flowers, even emitting mild fragrance. Besides, they grow easily with basic care such as water, soil, or sunlight to bring pretty blooms or a green garden. There is nothing better than enjoying a cup of tea and looking at beautiful flowers or fresh herbs right on your balcony, right? It's time to grow some!
#1 English Lavender
Source: Flowercouncil
English Lavender prefers to grow in full sun so if your balcony is an ideal place for its growth.
#2 Patio Rose
Source: Living4media
Patio Rose needs plenty of sun and water to grow well in containers.
#3 Marigold
Source: Gardeningtips
Growing Marigolds on the balcony, you will get bright, happy marigold flowers to enjoy their beauty. Give them water and sun, they'll bloom all summer long and even into autumn.
#4 Nasturtiums
Source: Flickr
Nasturtiums are edible flowers. They produce pretty, bright yellow and orange flowers emitting a mild scent. When getting plenty of sun and water, they will grow prolifically and energetically.
#5 Begonia
Source: Bobvila
Begonia bears tons of blooms all summer long when well-watered and fed. They look great if hanging basket. They prefer to grow in the mix of sun and shade, even do well in areas with more shade than sun.
#6 Fuchsia
Source: Gardenersworld
Fuchsia displays brightly colored blooms that attract tiny birds. They need lots of fertilizer for the best growth.
#7 Lemon Tree
Source: Orchardpeople
The Lemon Tree is a sun-loving plant that does well in pots producing both delicious-smelling blossoms and fruit well cared for.
#8 Hosta
Source: Gardenerspath
Hosta needs rich soil and plenty of water. It favors growing in shady parts but can tolerate some direct sun.
#9 Aloe Vera
Source: Ugaoo
Aloe Vera belongs to the succulent family, so it is tough, doesn't need frequent watering, and grows well in full sun to a half-day of sun.
#10 Boston Fern
Source: Balconydecoration
Boston Fern looks great in hanging planters, their soft leaves drooping down and creating a cloud of green. Keep it well-watered and misted, as fern need plenty of moisture for its optimum growth.
#11 Staghorn Fern
Source: Vrikshanurseries
Staghorn Fern grows well both in the outsides and insides. For outside, give it a shaded area.
#12 Rosemary
Source: Gardenerspath
Rosemary grows quickly and easily in full sun and can tolerate drier conditions.
#13 Jade Plant
Source: Trees
Jade Plant thrives in a variety of conditions, whether in sunny or partially sunny spots, it also does well. This plant belongs to the succulent family, so it does fine with less water.
#14 Mint
Source: Gardenerspath
Mint grows easily in containers and pots with a fair amount of sun and very regular watering. You can grow this herb with rosemary, lavender to make a balcony herb garden.