Summer is here, watermelon is one of the best fruits to quench your thirst with a pleasant cool feeling. Thus, I believe that your refrigerator always store some cool watermelons, right?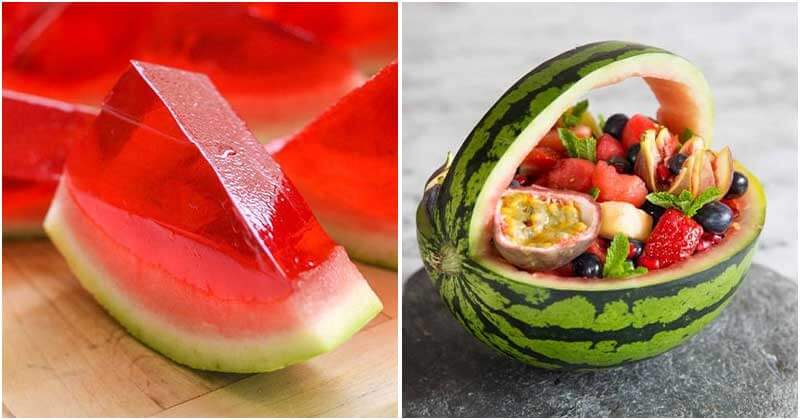 And today we are so happy to share 15 Awesome Summer Hacks With Watermelons that you can easy to make. With these hacks, you will have chance to show your skillful hands by turning normal watermelon into special things to treat everyone. Evenly, you can make them into a your own artwork. They are more impressive, enjoyable, and cuter. Check them out with us!
#1 Frozen Watermelon Sorbet
Prepare-ahead frozen watermelon sorbet, and then make it more refreshing by adding ingredients like squeezed lemon juice and fresh mint. And now, a great watermelon dish is ready to serve.
#2 How to Freeze Leftover Watermelon
Watermelon is a big fruit and you can not eat it all at once, so leftover fruit is often thrown or left uneaten until staled. It's best to freeze the pieces for eating the next time
#3 Herb-Infused Watermelon Drink
Making your favorite drink to beat the heat out with the way. Firstly, remove the watermelon top, and mix the inside well with a hand mixer. Drain the juice and pulp from the fruit, then pour the juice back in. Also, you can add herbs of your choice.
#4 Easiest Way to Cut Watermelon
It's simple, you just need a knife and cut them. One of the most useful watermelon life hacks!
#5 Watermelon Basket Dessert
To have this fruity and most interesting watermelon basket dessert, let's remove the flesh of the melon and added slices of papayas, cantaloupes, and honeydew melons with some sea salt.
#6 Watermelon Basket Fruit Salad
It looks so great! The most presentable watermelon basket fruit salad with juicy summer fruits.
#7 DIY Watermelon Helmet
Do you want to have a interesting helmet like this. This is an excellent DIY for teenagers, kids, and fun-loving adults.
#8 Watermelon Grill with Fruit Kabobs
This is excellent for your next summer picnic or cookout with friends. Try it once!
#9 Funky Watermelon Pig
This watermelon pig will be the best exciting idea to please with your kids for the upcoming weekend. They'll love this.
#10 Watermelon Cupcake Dessert
This delightful watermelon dessert goes well in your summertime. So yummy!