Succulent is one of the most popular plants to grow indoors and out. The reason is super simple. They're trendy and easy to grow. A little water and care will do the trick. Among these hard plants, string succulents are more and more loved by plant growers. They are perfect for hanging baskets and pots as a spiller. Look stunning in any corner of your house.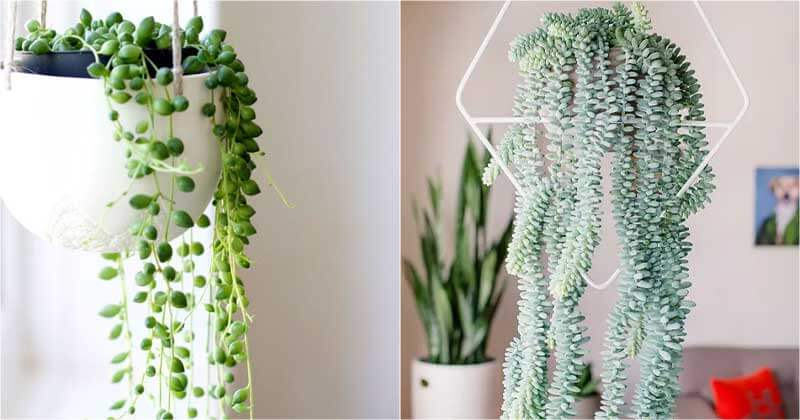 This post recommends 15 beautiful string succulents to hang indoors. If you are big fans of succulents, you should never miss this collection. These hanging plants add more scenery to your space and give it a fashionable view, too. People who are looking for awesome yet easy-to-care houseplants can also bring these home. Let's check them out!
1. String of Pearls (Senecio rowleyanus)
String of pearls comes first in this category. This succulent is native to South Africa and has pear-like leaves. It looks beautiful on hanging baskets and spillover flower pots.
2. String of Buttons (Crassula perforata)
This string succulent has leaves that look like they're stacked on top of each other. Their foliage with red rims is also what makes it standout.
3. String of Hearts (Ceropegia Woodii)
String of hearts looks perfect on the hanging basket with heart-shaped variegated leaves.
4. String of Nickels (Dischidia nummularia)
This succulent grows fast and bears magnificent foliage in olive-green color!
5. String of Turtles (Peperomia prostrate)
The string of turtle is a semi-succulent whose leaves look like a turtle's back. Grow it in a hanging basket for the best result.
6. Calico Kitten (Crassula pellucida)
Featuring rose-pink and cream hues on green, heart-shaped foliage, this succulent surely brightens up your space.
7. String of Beads (Senecio herreianus)
This string succulent features an array of oval, bead-shaped, plumpy leaves. They look wonderful in their bright shade of green.
8. String of Bananas (Curio radicans)
String of bananas is a charming succulent whose soft leaves resemble the shape of a banana. This plant produces beautiful tiny flowers in yellow-white color.
9. String of Dolphins (Senecio peregrinus)
This string succulent is famous for its eye-catching leaves that look like little dolphins. It produces white and pink blooms in star shapes!
10. Burro's Tail (Sedum morganianum)
Having lance-shaped, overlapping leaves, this succulent looks absolutely smashing in hanging baskets.
11. String of Tears (Senecio citriformis)
The string of tears makes a name for itself with tear-shaped foliage that has tapered ends. If you want to add something different to your succulent garden, this is a perfect choice.
12. String of Pickles (Othonna capensis)
The string of pickles features bright, thin, red-purple stems with contrasting plum, bright green leaves. They will add more color to your succulent garden.
13. Green Button Plant (Peperomia rotundifolia)
This succulent features round leaves on thin red-green stems that look like green buttons.
14. String of Necklace (Crassula marnieriana)
The string of necklace should never be ignored in this collection. Its red-edged leaves and masses of pink-white flowers give it an attractive look.
15. Rattail Cactus (Disocactus flagelliformis)
This string succulent is a bit different from others in the collection. But is worth adding in because of its sheer beauty. Long stems with very fine spines and grows glorious flowers in pink-red hue!