Fall in love with white flowers? This post is right up your street. It shares 15 elegant white flower shrubs for your garden. These shrubs bear a charming contrast on their own. They have green foliage and beautiful white blossoms. As such, they would be the star of your garden wherever they're grown. Not just that, these shrubs produce fragrance, making them appealing to birds, bees, and butterflies. Your garden would be much lovely with these white shrubs and their lovers.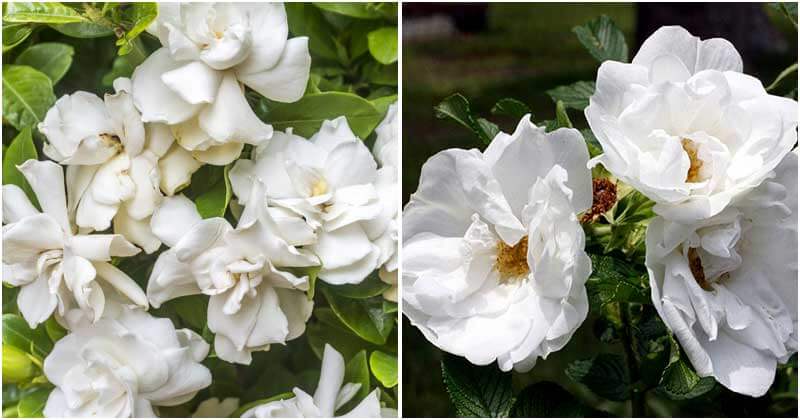 If you want to add the natural elegance to your garden, these white shrubs will come as the solution. You grow them once but can enjoy for years. These may even return your garden with a larger scale year after year when getting proper care. As these shrubs are low-maintenance, both lazy and busy gardeners can give them a try. Some even create pretty shade for your garden. Let's check them out!
#1 Abbotswood Potentilla

You should bring this shrub to your garden as it bears beautiful, pure white flowers. It blooms profusely at the beginning of summer and keeps showing off throughout the summer until the first frost.
#2 Annabelle Hydrangeas
Hydrangeas are low maintenance shrubs. They do well in just about any garden. Growing them and they will add a romantic feel to your landscape.
#3 White Oleander
This shrub features lush, lance-shaped shiny green leaves and white oleander flowers popping with vibrancy. These elegant flowers produce a sweet and subtle scent.
#4 Japanese White Spirea
Japanese White Spirea is known for its beautiful fuzzy white blooms. They're an excellent choice for garden edging. These flowers are additionally appealing to bees and butterflies.
#5 Blanc Double de Coubert Hybrid Rugosa Rose
This fast-growing rose bush releases a delicate scent and a beautiful look. But its flowers do not last long: the petals drop after only a couple of days.
#6 Lily of the Valley Shrub
Featuring showy clusters of bell-shaped flowers, these shrubs are worth bringing to your garden. They bloom beautifully in late winter to early spring.
#7 Lobelia
Cascading blooms of this annual will add more shade to your garden. Trim them up in hot weather, and they'll revive when things cool down.
#8 Sweet Alyssum
Sweet Alyssum produces tiny blooms that are appealing to pollinators. This bush looks lovely cascading from containers, window boxes, and hanging baskets, or tucked into a rock garden as a flowering ground cover.
#9 Peony
This shrubby perennial plant is valued for its glossy, dark green foliage and beautiful lush flowers.
#10 Gardenia
The glossy green leaves and creamy white flowers are what make this garden shurb stand out. Most varieties of this shrub bloom from late spring to early summer. You can grow them near patios and walkways to enjoy the scent.