We are no longer strange to dandelion. It is an edible perennial plant with yellow flowers that bloom all year round. From root to flower, dandelions are highly nutritious, packed with vitamins, minerals and fiber. And dandelion greens? They can be eaten cooked or raw. They're also a good source of Vitamin E. For these things, why don't you spend a corner in your yard or garden to grow these plants? You can even raise them in container gardens if preferred.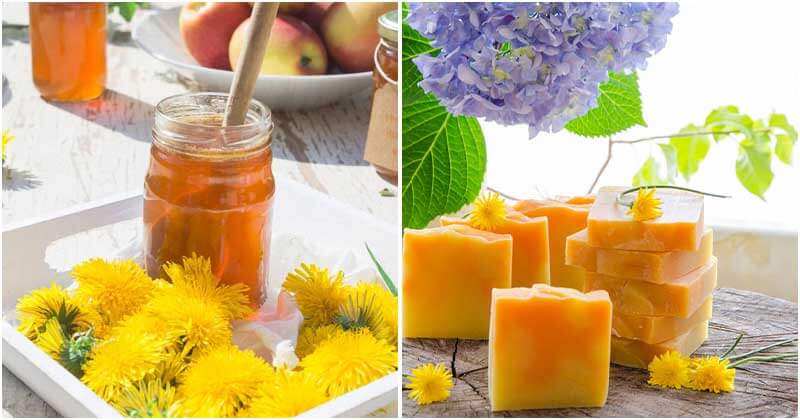 In this post, we're glad to share 30 fantastic ways to use dandelion flowers. If you are seeking for best uses of them, just give these a go. As dandelions are perennials, they will visit your garden year after year if cared probably. I just love dried dandelion flower tea. Add in a teaspoon of honey in, you have a good drink to warm you up in autumn and winter days. As these flowers are homegrown, they're fresh and healthy. I mean that you're all clear about what you eat. Ready to give them a look?
#1 Dandelion Jelly
Seeking a healthy and flavorful jelly to chill out on a hot day? Dandelion flower jelly is a good choice. Search for a favorite recipe and give it a try. Commonly, you will need dandelion blossoms, water, powdered pectin, sugar, lemon and a little patience and boil everything together.
#2 Dandelion Infused Honey
Dandelion and honey? Such a fantastic combination! In winter, you soak freshly dandelion flowers in a jar of raw honey. Stir with a knife, or chop stick to make sure that bubbles come to the top. Put on lid and let it rest for 2 weeks in a dark place to sweetly infuse. Who can resist them?
#3 Dandelion Tea
If you do not making healthy tea with dandelion flowers, you are definitely missing out! It not only keeps you relaxed but also detoxifies your body. In fall and winter, a cup of hot dandelion tea will warm up your body right.
#4 Pickled Dandelion Flower Buds
I just love pickles. If you have craving for traditional cucumber pickles, why not give dandelion flower pickles a go? They would be a tasty and flavorful side dish for your meals.
#5 Infused Dandelion Vinegar
Infused dandelion flower vinegar should be found at your kitchen from spring to autumn. It helps a lot with your digestion. Store spring blooming flowers and add them to a vinegar jar. Easy, right?
#6 Dandelion Pancakes and Cupcakes
One of the glorious way to eat dandelion flowers is to deep fry them, turning into dandelion pancakes. Or you can also make healthy pancakes with them. Don't forget that you can toss the fresh petals into any kind of dough or batter.
#7 Dandelion and Honey Ice Cream
Here is a good ice cream recipe to chill out on a hot day: dandelion and honey ice cream. Spring weather is also suitable for you to enjoy this ice cream.
#8 Dandelion Tincture
Dandelion flower tincture is a wonderful natural remedy for coughs and sore throats. That's why I always make a dandelion tincture with fresh blossoms after harvesting them. You can also stems, leaves and roots, along with flowers to your jar.
#9 Dandelion Syrup
If you have fresh dandelion flowers on your hand, why not make healthy and flavorful dandelion syrup? Add sugar, or honey, rhubarb (optional), and 50 dandelion flowers in a jar. Easy, right? Your pancakes would be more delicious with drizzles of this syrup on top. Yummy!
#10 Dandelion Flower Infused Oil
Along with honey and vinegar, you can also soak fresh dandelion flowers into oil. Your oil is then packed with more flavors and medical values. It's commonly used for massaging.
#11 Dandelion Soda
Your kids crave canned sodas? It's a good time to do a parenting pack. Make soda with dandelion flowers. It tastes so good and surely, is healthier than canned or bottled ones.
#12 Dandelion Flower Salve
Dandelion flower salve is a fantastic DIY project for you and your kids to involve in. It helps in relieving sore muscles, aches and pains of the homesteading kind. It's also good at soothing and moisturizing dry, cracked skin on your hands or feet.
#13 Dandelion Wine
Can I make good wine with fresh dandelion flowers? The answer surely keeps you satisfied. It will be a unique gift to your family and friens. Just give it a try now as dandelions are gorgeously blooming now.
#14 Dandelion Mead
To make dandelion mead, you need honey, instead of sugar, to initiate the fermentation process. Is it better than wine?
#15 Dandelion Soap
If you prefer handmade crafts, you can try with these dandelion flower soups. They help you stay clean and healthy. If your kids get interested, just let them involve in this enjoyable DIY project. Have fun!