Are you planning to create a relaxation place on your patio? You are in the right place to find an answer. In this article today, we are so glad to share 15 hammock ideas for your backyard that you will fall in love with. To know what will work best for you and your home, let's check them out with us.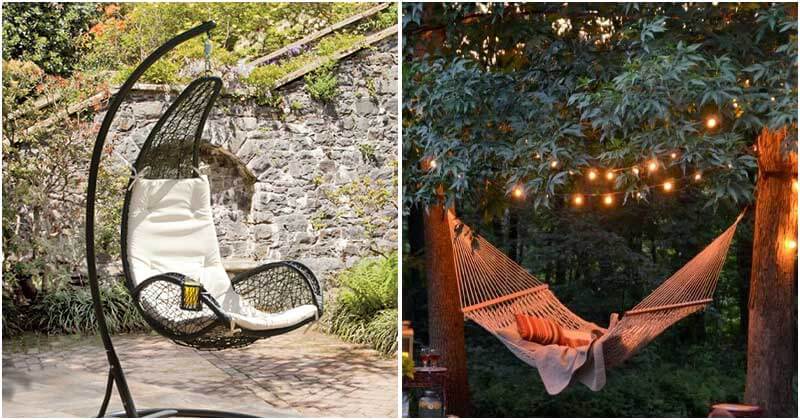 There is nothing better than enjoy being rocked to sleep by the natural breeze, right? Although a nice patio with a table and chairs can be sufficient, sometimes a little spot to really lay back and take in the open air is necessary. So, these ideas are perfect gifts for you. Taking them a look, you will see that there are many different styles of hanging furniture that you certainly find an option and it will fit your space perfectly.
#1 Hillside Hammock

A traditional hammock may seem too dull, but it's the simple things that keep us happy in life because this hammock atop a hill, looking out over the yard and house below.
#2 Triple Hammock Trellis

Delicate white hammocks hang on three sides of this garden trellis, and the beautiful lavender flowers accent the space well.
#3 Hanging Barrel Chair

Suspended with a metal link chain, this unique barrel seat design serves as a comfortable chair for a single person or an intimate love seat for two.
#4 Rock Patio Fabric Hammock

Hung stylishly between two trees, this hammock offers a place of leisure in the middle of a lush garden.
#5 Garden Patio Hammock

Hanging privately in this square patio, this hammock gives you a secluded spot to relax and enjoy your garden.
#6 Backyard Fabric Hammock

Hang up a fabric hammock like this one in your backyard space to provide that higher level of leisure.
#7 Lighted Hammock

This traditional hammock hangs between two trees, while the entire space is accented by exterior lights strung up in the trees, and a homely side table.
#8 Hanging Mesh-Wire Chair

With a mesh wire design and cushion, this chair is stylish and comfortable.
#9 Chesapeak 4-Pole Hammock

With four poles for support, this hammock offers a little extra stability, without compromising that "swing" that we all love.
#10 Modern Gyro Chair

With its unparalleled design, this outdoor chair cradles you in the usual hammock style.