Simple, charming, and budget-friendly, Tiki torches make an excellent choice for outdoor lighting. They will up your garden, balcony, and porch. When you have a dinner or gathering out, these Tiki torches also make the space lovelier and cozier. Of course, you can buy these at shops. But it would be rewarding when you make your own Tiki torches homestead materials. They're made with your love and patience, so they will be more meaningful to you.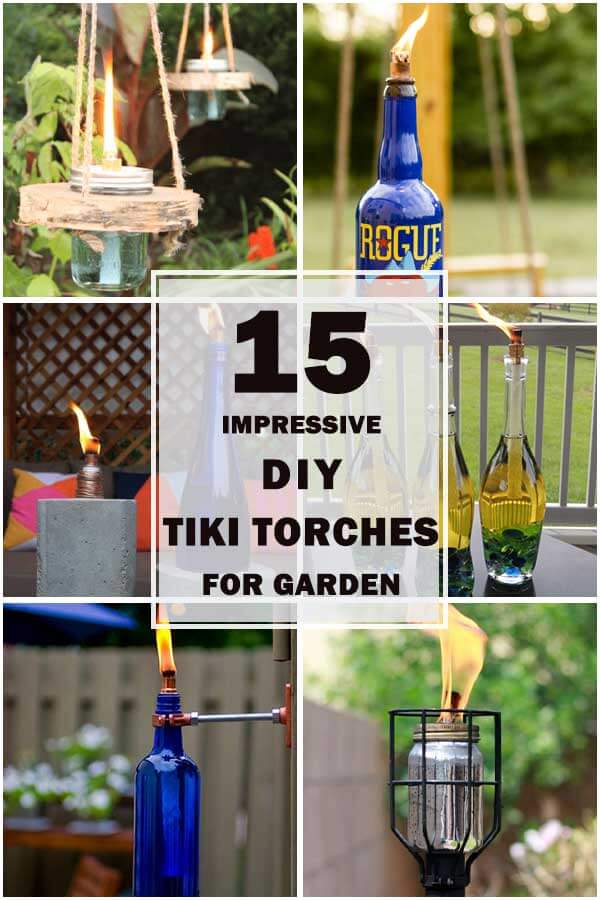 Here are 15 impressive DIY Tiki torches for your garden. If you want to liven up the outdoor space with some Tiki torches, these are the way to go. Wine bottles, glass bottles, mason jars, and some others are used for this interesting DIY project. Once finished and established, these Tiki torches serve for both garnishing and functioning purposes. Let's check them out!
1. Recycled Wine Bottle Tiki Torch
It's one of the craziest DIY projects to do with empty wine bottles. These tiki torches will add more charm to your fence or somewhere in your garden or porch.
2. DIY Industrial Style Tiki Torch
This is a fantastic way to liven up your yard at night. All you need to prepare are empty mason jars, PVC pipes, and light bulbs. Here is how to do it: Insert a coupler into one end of a PVC pipe and secure a light bulb guard over the coupler using screws and nuts.
3. Glass Bottle Tiki Torch
Simply fill a clear wine bottle with crafting pebbles and tiki fuel till a certain limit. Then Insert the tiki wick into a coupling and place it in the container. Perfect for an outdoor dinner, right?
4. Tiki-Torch Anchors
It's great to light up your yard lit at night without using electricity. If you have built a vintage style garden, you should never miss this. Here how to do it?: insert each torch into a bucket filled with gravels till 3-inches from the rim.
5. DIY Wire Cage Tiki Torches
Upcycle a fruit picker basket and attach it to a copper pipe to create the wire cage for this tiki-torch DIY.
6. DIY Mason Jar Tiki Torches
It's simple to make these DIY Tiki torches: Drill a hole into the lid of a mason jar to let pass a tiki torch wick through it. Then fill the mason jars with tiki fuel and put the lid on.
7. HomeMade Modern DIY Copper Tiki Torches
All you need to do is to cut the right size copper pipe and insert a tiki torch wick in it with the help of a reducer. To stick the torch to the ground, use PVC pipe, gravel, concrete mix, and water.
8. DIY Concrete Tabletop Tiki Torch
Use PVC pipe as the mold to build these tabletop tiki torches. Then, fill the pipe with cement mix and adjust the tiki canister in the middle and secure with tape. Once it dries out completely, cut off the PVC pipe carefully and enjoy your creativity.
9. DIY Beer Bottle Tiki Torch
I just love this beer bottle tiki torch a lot. Simply fill an old bottle halfway with tiki fuel and insert the cotton string through a hole in the cap. You've got unique lights to spruce up your yard, garden or patio.
10. Wood and Mason Jar Tiki Torches
Here is how to make these Tiki torches: Hang a series of such tiki torches in your yard using wood slices, drill, mason jar, tiki fuel, twine, and wick.