A water fountain will be a focal point in your garden and backyard. Of course, can buy it at stores. There are many beautiful types available for you to choose from. But have you ever thought of making a water fountain on your own? Then it comes to which materials can be used to proceed with this. Try with planters. Yes, it is. It's totally affordable and does not require much time and effort. If you love the sound of water and get interested in here, just give this a go.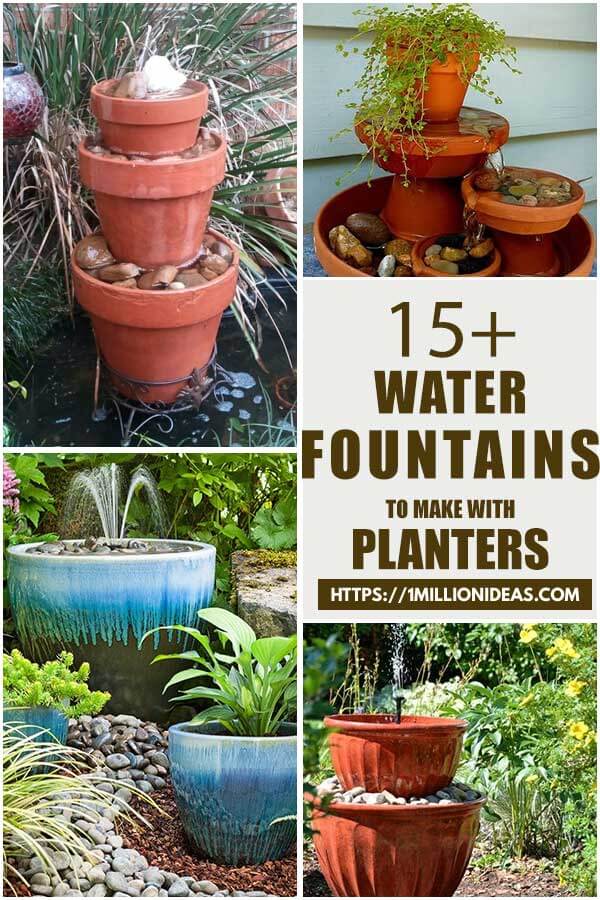 Here are 15 inspiring ways to make water fountains from planters we would like to share you guys. These are also great ideas to make your planters less boring. If you want to experience more with them, just roll up your sleeves and give them a try. You may even let your kids involve in the project if they love it. Let's get started!
#1 Plant Pot Water Fountain
It's fantastic to build an ecstatic fountain from two large garden pots.
#2 Recirculating Ceramic Pot Fountain
You would fall in love with the sound of babbling water from this recirculating fountain.
#3 Flower Pot Fountain
If you prefer something rustic for your garden, this flower pot fountain is right up your street.
#4 Clay Pot Planter Water Fountain
Want to experience more with your clay pot planters? You can make a simple water fountain out of them.
#5 Wine Bottle and Barrel Fountain
This is a great project to use your old wine bottles and planters. Love it?
#6 Tiered Flower Pot Fountain
All it takes to proceed this DIY water fountain is pots from Lowe's, a $5 water pump, and some rocks from around your yard.
#7 Strawberry Planter Fountain
This lovely fountain is constructed from a strawberry planter.
#8 Central Fountain with Fire Bowl
Urn makes a great material to build a water fountain as it adds a lot of height from the start. Don't forget to fill it with stones.
#10 Colorful Ceramic Fountains
This colorful ceramic water fountain is actually an artwork in your garden!