I just love exotic and tropical flowers of Hawaii. That's not all because I love flowers or get interested in doing the gardening. These flowers are popularly known for their pleasing fragrance and stunning colors. These are also one thing that contributes to the fame of this tropical paradise! You must have seen locals welcoming the visitors with a garland of orchid or plumeria!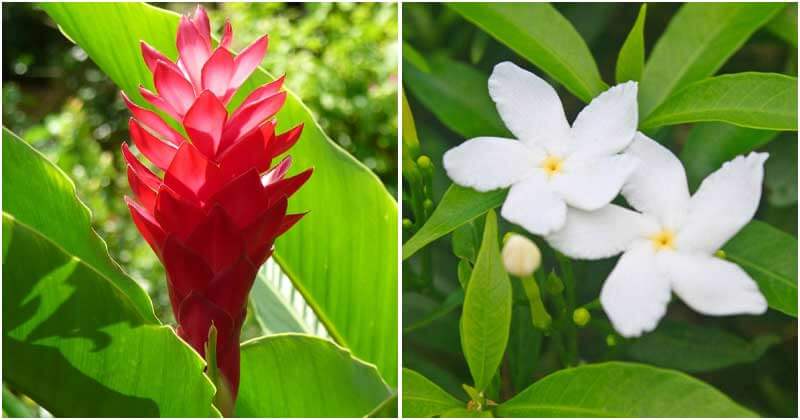 In this post, I'm glad to share 15 stunning Hawaiian flowers that you will love. These appeal us with bright color and soothing aroma. If you are living in tropical region, you may try growing some favorite varieties. Just imagine how they become the spotlight of your garden when coming into their time. Those who crave gardening should never miss these beautiful flowers in their garden or yard. A fantastic natural décor for your garden, and your home. Ready to give them a look? Here we go!
#1 Plumeria
In Hawaii, plumeria comes in a number of shades, ranging from pink, purple to salmon pink . They bloom between April and November, and are highly fragrant.
#2 Birds of Paradise
Bird of Paradise or Crane flower should never be missed in this category. The name of the flower may suggest what it look like. It features blue-green leaves with a red midrib while the orange-colored petals complement the thick evergreen foliage.
#3 Heliconia
Heliconia is also called 'Lobster claw". It blooms in yellow, scarlet-red edged with yellow-green. They can grow up to 12-16 feet tall.
#4 Yellow Hibiscus
Yellow hibiscus was declared as the national flower by the Hawaiian Government in 1988. You can find it in a variety of colors, ranging from white, pink, red to yellow. The plant may flower daily, but the blossoms hardly last more than a couple of days.
#5 Ohia Lehua
Once blooming in spring, Ohia lehua flower can be found in salmon pink, white, yellow, red, and orange shades. The fruit of this plant is favorite of Hawaiian honeycreepers.
#6 Pikake
Pikake or Hawaiian peacock jasmine is a popular flower in Hawaii. It blooms throughout the year, and profusely in summer. You can grow these flowers in trailing vines or shrubs.
#7 Ilima
Ilima is also called 'Black Coral'. These flowers can be found in the forests of O'ahu and Kaua'i. The plant produces a five-petal flower in yellow to orange shade.
#8 Red Ginger
Native to Malaysia, red ginger is also known as pink cone ginger, ostrich plume, and blue ginger. The floral bracts consist of pink, red, and white colors.
#9 Anthurium
Anthuriums has more than 500 species and come in a variety of colors, ranging from red, purple, green, white, and pink. The leaf exhibits glossy and waxy that may even look artificial!
#10 Passion Fruit Flower
Passion fruit flower is a popular plant in tropical and subtropical regions. It's grown commercially for its sweet fruit. It blooms in red, pink, white, purple, and blue color. It has a distinct floral shape with oblong green sepals and white petals that form a fringe with a purple base and five stamens.
#11 Naupaka
Naupaka flower is native to Hawaii. It's known for its unique shape and fragrance. The flower gives you a feeling that half portion is missing. Two main varieties are available–one grows in the beaches and the other one in the mountains.
#12 Protea
Protea has another name, honeypot. This flower is native to South Africa and was first planted in Hawaii in the 1970s.
#13  Kahili Ginger
Kahili's flowers features feathers and flowing long branches. This plant can grow up to 6-8 feet tall but remains small in containers. It's also called yellow Ginger lily, Kahili garland lily, and Kahili ginger.