If you do not grow herbs in your garden or have some herb containers at home, you're definitely missing out. Garden herbs not only serve for culinary purpose but also offer medicinal uses. Some even help repel mosquitoes and flies around your home. You can even dry some varieties (like lavender) and place at any room of your home to enjoy their fragrance and beauty. There is so much going with these herbs.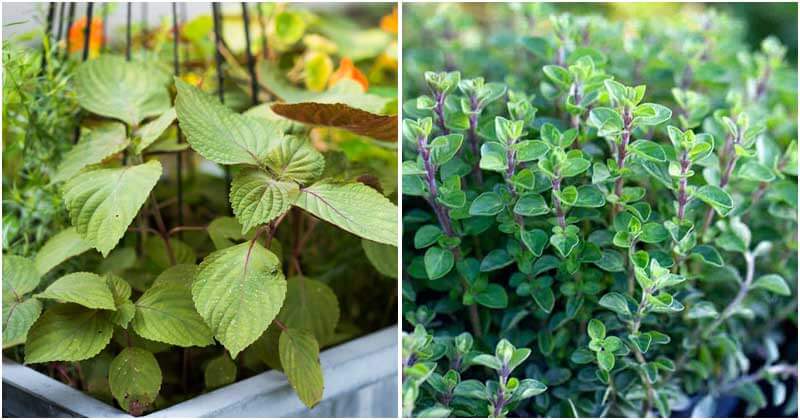 This post, however, loves to share something more attractive. It introduces 16 best exotic herbs to grow in your garden. You can plant them directly in soil in your garden or in containers. The later will save you a lot of space. Some are perennials, so they will return your garden season after season when provided with proper care. If you love gardening or want to build a diverse herb garden at home, just give these a try. Let's get started!
#1 Pineapple Sage
Pineapple sage produce leaves that have a mixed aroma of pineapple and common sage. This distinct aroma makes them a great addition to tea, desserts, and salads. This herb also has antioxidant, anti-inflammatory, and antimicrobial properties.
#2 Shiso
Shino is prized for its mixed flavor of mint, citrus, basil, anise, and coriander. Its leaves are the main ingredient in sashimi, soups, and sushi. It can also be added into salads, green tea, and stir-fries.
#3 Asafoetida
Asafoetida is also called 'Hing'. It's extracted from ferula plant is essentially a gum, and widely used in Iranian, Indian, and Aghani cuisines.
#4 Vietnamese Balm
Vietnamese balm is valued for its unique flavor and aroma. It's like lemon-scented flavor with a hint of mint. The tea made from its leaves has soothing effects. You can add these herbs to meat dishes.
#5 Culantro
Culantro is native to Mexico and South America. It produces pungent smell and mildly bitter taste like cilantro but on a strong side. Its leaves have both culinary and medicinal uses. It is popularly used in Latin American, Southeast Asia, and Caribbean cooking.
#6 Thai Basil
Thai basil tastes like licorice, anise, and cloves with a pleasing aroma of sweet basil. It's a popular herb in Southeast Asia, and commonly used fresh in Thai curries, noodles, tea and meat dishes.
#7 Greek Oregano
Greek Oregano, also known as 'Rigani,' tastes sweet with a hint of bitterness. This Mediterranean herb has hairy dark green leaves with small white flowers, and commonly added to Greek salad, meat, and soups.
#8 Wasabi
Wasabi features a pungent yet delicate flavor with a sweet underlying taste. This perennial herb produces thick heart-shaped upright leaves. Amazingly, all parts of wasabi are edible, and you can add it in cold soba, sushi, sashimi, udon noodles, and seafood.
#9 Fish Mint
Fish Mint features a distinct fish flavor with roots having a strong cilantro taste. It's popular in Southeast Asia, China, Korea, and Japan, and is mainly used fresh in salads, spring rolls, grilled meats, fish, and other Asian dishes.
#10 Pennywort
Pennywort is a relative of carrot and parsley. This Asian herb produces leaves that have a strong, grassy aroma. These leaves can be consumed raw, pickled, dried, or sauteed. Pennywort has both culinary and medicinal uses, but it is mostly sold as juice.