Why your backyard needs a DIY wind chime? It livens up your space. Definitely. You love the sound when the wind gently taps the suspended tubes, rods, bells of the wind chime. If you prefer rustic decors for outdoor space, you should never miss this. They come in a variety of materials and decorations, so surely keep you satisfied.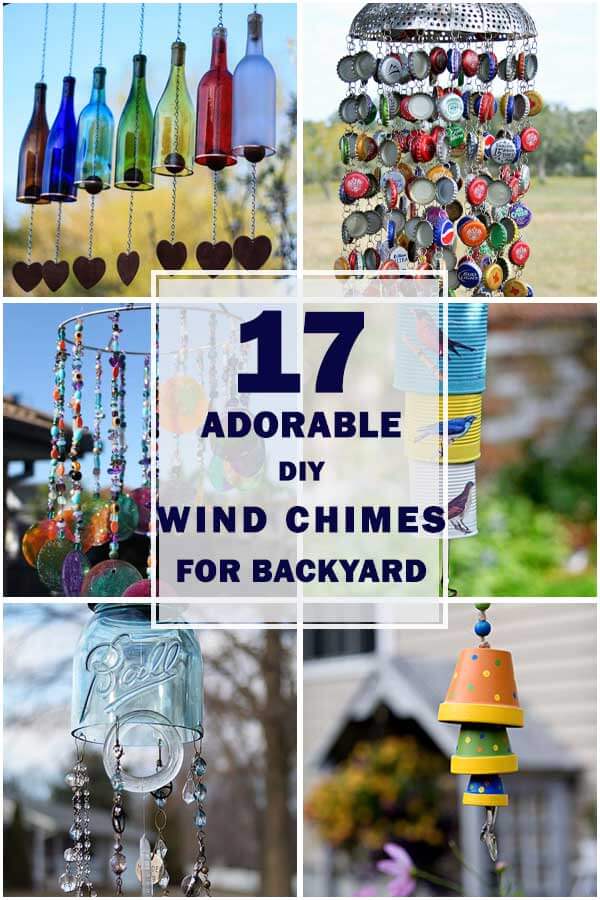 We've rounded up 17 Adorable DIY Wind Chimes for the backyard. These are also great ornaments for porches, terraces, balconies, and gardens. As they're fun to proceed, you can let your kids join in if they get interested in it. They will come up with something wonderful for you to consider. I even have one hung in front of my bedroom's window. Open the window in the early morning and listening to the pleasant sound coming out from it. A pretty cool way to start your day, right? Plants some herbs and flowers in the window box to make your window an interesting relaxing spot. Let's get started!
#1 DIY Bottle Cap Wind Chime
You can easily find these bottle caps around your home or your neighbor's. Then use them to make this unique wind chime for your garden or backyard. Your kids would go crazy with this DIY project!
#2 Colored Wine Bottle Wine Chime
This is a fantastic DIY project to proceed with wine bottles. You will love the sound this wind chime produces.
#3 Small Flower Pot Wind Chime
A super duper cute wind chime to spruce up your backyard.
#4 Easy DIY Colorful Wind Chime
All it takes is beads of different colors and vinage style keys. This wind chime will shine in your garden and backyard.
#5 DIY Tin Can Wind Chime
Tin cans make exciting materials to make eye-catching wind chimes. Paint them with favorite color and decorate them with beautiful patterns to make them more eye-catching.
#6 Glass Jar Wind Chime
Glass jars can be also used to make a relaxing backyard wind chime. Love it?
#7 Handmade Sun Catcher
If you are looking for something gorgeous for your backyard, this handmade sun catcher is right up your street.
#8 Upcycled Game Piece Wind Chime
This wind chime is unique. Get interested in dressing up your backyard with it?
#9 Peacock Blue and Bamboo Clay
I just love the rustic beauty of this wind chime.
#10 Bead and Twig Wind Chime
Colorful beads and simple twigs come in this DIY wind chime project. Weekend is coming, let's proceed it with your kids!