The windows will not be monotonous when adding boxes of flowers on the side! Think about them. No need to spring, at any season of the year you will have beautiful flowers to decorate for your home. They become more wonderful with the vivid of beautiful colors of the flowers. And in the post today, we are so glad to share 17 Beautiful Flower For Window Boxes. With these ideas, they will give you more inspirations to make your window boxes more perfect than ever.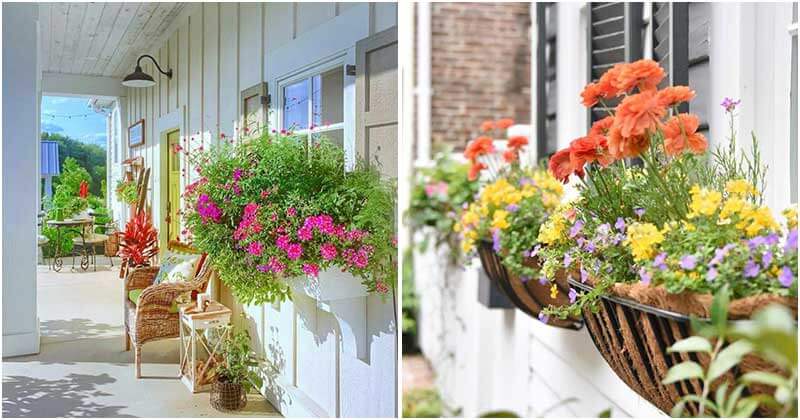 Nowadays, there are a variety of flowers that suitable for all weather. And they are easy to grow, and take care, these are will depend on the plants you choose. However, there are a few good general rules of thumb such as soil should offer good drainage, and be careful about exposing too much water to the walls your window boxes are attached to. Check them out!
#1 Trailing and Upright Flowers

The colors of the pink geraniums, trailing white petunias and their sizes in this image give a nice layered effect. Switching up the heights and widths of your flowers is a surefire way to spice up a window box.
#2 Choose a Color Based on the Season
This is perfect combination of the colors of the flowers. Cole Williams' pretty planter contains orange and white petunias, marigolds, and summer snapdragons among some pretty dark green trailing vines.
#3 Bold and Bright
The geraniums in this picture are a perfect example of how to use bright hues in a window box—these ones specifically really pop against the dark window frames and light yellow walls.
#4 Overflowing Trailing Plants
An abundance of lush and bushy flowers can solve for a bare-looking window box. They look so great!
#5 Hedges and Trailing Vines
A mixture of clean cut and free-flowing plants, can make for a beautifully balanced window box. Try arranging your plants with more structured, trimmed plants up top and cascading vines beneath them.
#6 Window Box With One Kind of Flower
This Old Cape Barn shows how even one type of flower can still look visually stunning. This scattering of plum purple Blue Moon tulips are dramatic, but far from moody thanks to the white window boxes and different blue shades on the house.
#7 Lively Colors and Extra Greenery
Vivid green sweet potato vines, Supertunias, and cleomes are what make this punchy window box so stunning. This is a gorgeous combination of colors that harmonize super well with the light gray stones.
#8 Unexpected Window Box Flowers
In addition to roses, you have many ways to decorate your window box and in this photo is an interesting example. Consider bold planters beneath larger windows the perfect homes for these flowers.
#9 Faux Flower Window Boxes
These stunning window boxes contain faux flowers, which make maintenance so much easier—no green thumb required.
#10 Rainbow Assortment Window Box
Tiny to mid-sized blooms in all different colors make up this pretty box captured. A wide selection of hues will easily add a punch of color to your home's exterior.