Itching to the shape of ice cream cone? You've already found the right place. This post introduces 17 cute DIY ice cream corn planters. They promise to be a stunning home décor. You can attach these directly to the wall, hang them or lay them on the coffee table with a flat base at the bottom. It really depends. The third choice will also work with your working desk. If you are finding something unique to put on it, just give these mini cone containers a go. Little planters with little beautiful plants. Who can resist them?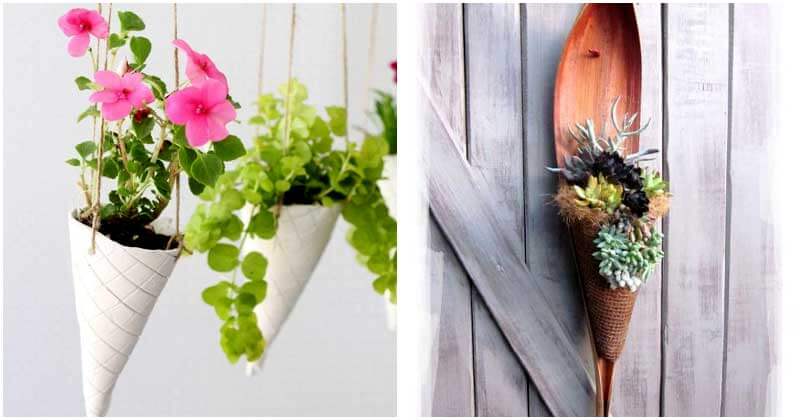 As there is so much fun to make these planters, why don't you let your kids involve in the process? Kids love ice cream, so they easily fall in love with ice cream cone-look like planters. Grow tiny beautiful plants in here would be great. Let's get started!
#1 Waffle Cone Ice Cream Painted Flower Pots
Your flowers look pretty on this adorable pot. You can place it at any corner of your home and also on your working desk. Perfect!
#2 Wall-Hanging Clay Ice Cream Cone Succulent Planter
These ice cream cone planters are a stunning home decor. Love copying these for your home?
#3 Triple Ice Cream Cone Planter
Love this cute planter for the coffee table in the patio?
#4 Ice Cream Cone Planter with Inhouse Plant
One of the cutest planters for your beautiful indoor plants!
#5 Ice Cream Cone Large Plant Pot
It's fantastic to grow succulents in these ice cream cone pots.
#6 Palm Leaf Hanging Planter
I just love this ice cream cone planter of palm leaf so much!
#7 Ice Cream Cone Planter From Waste Cloth
A crazy good idea to reuse waste cloth!
#8 Hanging Ice Cream Cone Flower Planter
A creative hanging planter for your flowers. They will be the star of your home decor.
#9 Ice Cream Cone Seedling Garden
These would add more beauty to your garden, creating a stunning contrast between miniature planters and others.
#10 Vintage Teddy Bear Cone Planter with Succulent
Obsessed with teddy bear and ice cream cone? This succulent planter is perfect for you.