It's always great to grow some flowers in your window box. Just imagine how beautiful it is when the flowers bloom. They would be more attractive when you grow some varieties in the same bed. They are surely a charming décor for your window. Get up early in the morning, open the window, inhale some fresh air, and enjoy the fragrance of blooming flowers. It's a simple yet effective way to raise your mood in the morning. Believe us!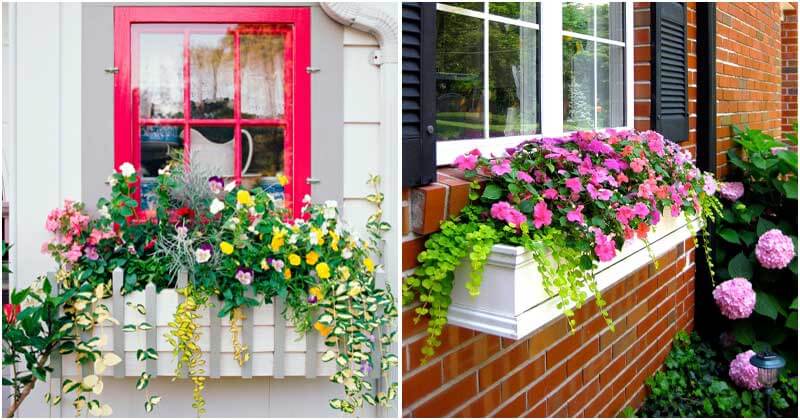 In this post, we're glad to share 17 stunning flower window box planters you will fall for. These are the one that grasp the eyes of your neighbors from outside. As they are quite easy and affordable, why don't you add them to DIY projects? Paint your window box with a favorite colors, add in soil and place your favorite flowers inside. Easy, right? As they get direct sunlight, make sure that you give them proper maintenance and water. Ready to give these a try?
#1 Old-Fashion Window Box
A beautiful flower window box filled with hibiscus, impatiens, pansies and periwinkle.
#2 Transitional Window Box 
Love this flower raised bed? Why not apply it for your window box right?
#3 Healthy Layers
A perfect combination of asparagus ferns and flowers. Just imagine how beautiful your window box is when the flowers bloom.
#4 Combined Up Growing with Hanging Plants Window Box
Another pretty choice for your window box. Worth trying?
#5 Succulent Gardening in Window Boxes
Itching to succulent garden? Why don't you buy a beautiful one right in your window box? These hardy plants thrive here with a little maintenance.
#6 Vintage Croquet
Paint a window box in rustic tones, border it with some vintage croquet mallets, and plant your favorite flowers in.
#7 Springy Statement
A beautiful spring window box arrangement filled with tulips and pansies.
#8 Cherry Chio
The gorgeous yellow petunias mingle is that what makes this window box shine.
#9 Serene Scene
A craftsman-style box filled with petunias and other plants.
#10 Floral Frame
Welcome to this mini floral garden. Love having this at your window box?