If you are a purple lover, you should save the article today. Here are the 18 Best Beautiful Purple Flowering Shrubs For Your Garden that you will fall in love with immediately. Shrubs offer a variety of landscaping uses. For example, you can use them to block your neighbor's line of sight into your backyard, to create a privacy row, or to edge a walkway. They even make fantastic statement pieces or backdrops behind your flowerbeds! They are so great! Are you ready to check them out with us?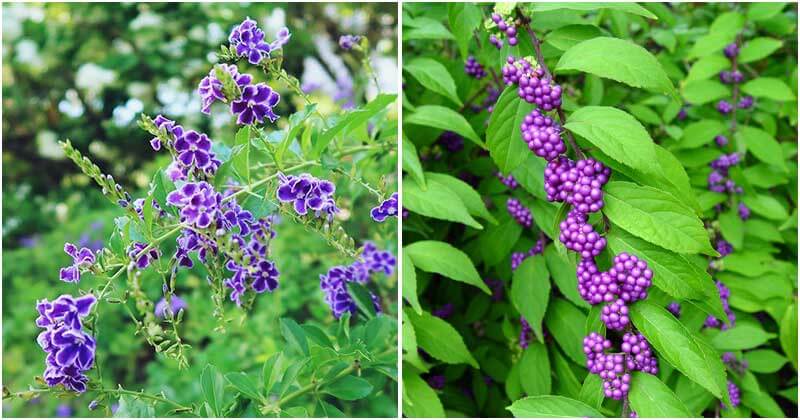 Whether purple isn't your favorite color, or if you want your yard to spruce up with a color symbolic of luxury, royalty, and elegance, planting a few of these purple shrubs is the way to go. Whatever the case might be, adding a few purple shrubs is a smart choice. Moreover, they are so easy to grow and just need minimal care from the gardeners.
#1 Rhododendron
This purple shrub loves acidic soil. Tiny-leaved rhododendrons grow well in full sun.
#2 Hydrangea
Hydrangeas have many kinds of colors, but purple is one of the most striking shades available. It will bloom more prolifically when it gets at least four hours of sunlight per day. Make sure your soil is well-draining as hydrangeas don't like wet.
#3 Bougainvilleas
A tropical vining shrub, bougainvilleas grow well in zones 9 to 11.
#4 Butterfly Bush
This hardy shrub prefers well-draining soil and full sunlight. Plant one of these gorgeous shrubs in your backyard to attract butterflies and other pollinators, and you'll be rewarded with gorgeous colors.
#5 Abelia
Abelia is a flowering shrub that produces flower sun shades like pink, peach, and of course, purple. They also produce seed pods that will attract all kinds of birds and butterflies to your lawn. There are several types of abelia you can grow, many of which are cold-hardy. It's hardy in zones 4 to 9.
#6 Golden Dewdrops
These plants can often reach more than 6 feet tall and wide! For the best and most vibrant purple hues, plant your golden dewdrops in full sun. Partial shade is also tolerated.
#7 Lilacs
Lilacs are adaptable and hardy plants, growing well from zone 3 to 9. This shrub requires minimal care, some varieties go dormant in the winter, so it's best to plant in the fall.
#8 Weigela
Weigela is hardy in zones 3 to 8. It blooms from mid-spring all the way into mid-fall, making it one of the most breathtaking and longest-lasting perennials you will find. It produces bright green variegated leaves and purple blossoms.
#9 Azalea
The azalea is a plant of many colors, including red, white, orange, and yellow. However, lavender is one of the most popular colors.
#10 Beautyberry
Although beautyberry has white flowers in the late summer, what really will draw your attention is the purple berries that appear on the stems in the fall. It's hardy in zones 5 to 8, with popular purple cultivars including 'Purple Pearls' and 'Pearl Glam.'