Tomatoes are one of the nutritious and healthy vegetables, they have the effect of enhancing the body's resistance. In addition, tomatoes have the effect of heat, detoxification, blood pressure, increase fluid, anti-thirst, help urinate, and digest well. That is the reason why you should give this plant a small space to grow in your garden.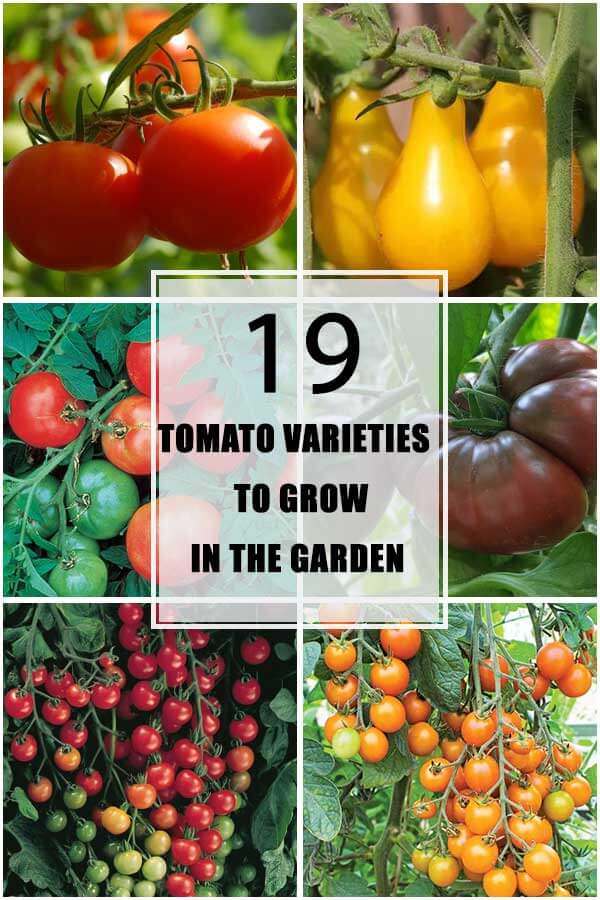 Unlike the usual tomato variety, there are a lot of exotic tomatoes in colors and shapes that make people are very excited. And here, we have collected 19 tomato varieties to grow in the garden that you will love. Growing some of these varieties for the garden, you not only have organic fruits to enjoy year-round but also make your garden more attractive and vivid. These tomato varieties are easy to find in any seed store, so give them a space in your garden and just wait for the harvest time, after that bring them from the garden to the kitchen.
#1 Arkansas Traveler
These pink tomatoes have a mild, creamy taste but are still incredibly flavorful. It grows well in hot, dry conditions and is highly adaptable. Provide a cage to support their heavy vine. Plant 36 inches apart in full sun.
#2 Black Krim
This purplish-black tomato has a unique, rich flavor that will bring deep layers to any dish. It produces fruit all season. A unique and interesting twist on the classic red tomato. You should plant with space seedlings 24-36 inches apart. Add a sturdy stake or tomato cage to support black Krim tomatoes.
#3 Yellow Pear Cherry Tomato
This pretty, pear-shaped yellow tomato is great in a salad or as a snack. It produces large quantities of fruit even through hot summer months. Plant in full sun, 36 inches apart.
#4 Patio Princess
These plants are incredibly compact and grow well in containers so they are perfect for a patio or balcony in full sun.
#5 Bonnie Original
This tomato has incredibly high yields throughout the growing season so it is perfect if you want a lot of tomatoes. Plant in full sun 36 inches apart.
#6 Brandywine
Brandywine is a broad name for a number of varieties that range in color, shape, and size. The massive fruits are meaty, with a firm, rich pink skin. Many claims that this is the best tasting tomato variety. Plant 24 inches apart.
#7 Better Boy
This plant can resistant to verticillium wilt and nematodes. Plant in full sun, 36 inches apart. Plants can grow incredibly tall so be sure to give it a sturdy cage for support.
#8 Beefsteak
Like the brandywine tomato, there are numerous offshoots of the beefsteak cultivar with different growing ranges, fruit sizes, and harvest times. This large tomato has a meaty flesh and lots of seeds and is excellent on hamburgers or sandwiches.
#9 Early Girl
This tomato is great for slicing and snacking, canning and cooking. These classic tomatoes can do it all. Plant in full sun, 36 inches apart.
#10 Super Sweet 100
The Super Sweet 100 Tomato has incredibly high yield and seriously yummy taste. Plant in full sun, 36 inches apart. Give them tall support and be prepared for them to grow up and down the cage or stake numerous times.