Looking for DIY projects to make your terracotta pots less boring? This post is right up your street. It shows 20 amazing garden ideas for stacked pots. They will be a stunning décor for your garden, adding more shade to it. If your garden does not have enough space for your favorite plants, these are also excellent choice. Many vegetables, herbs, flowers, and ornamental plants do well in these stack pots. Just give enough light and water.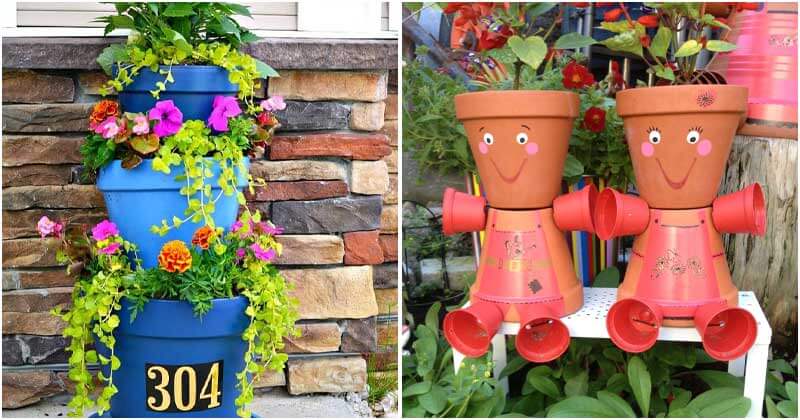 It's quite easy to build these stacked pot gardens. Stack plain terra cotta pots to achieve a compact structure. Fill in soil and plant ornamental grasses and spilling plants in. As there is so much fun to do this, you can definitely let your kids involve in. They will experience what to prepare and how to grow a plant. And you, ready to give these a try? Let's get started!
#1 Tipsy Pot Flower Tower with Birdbath
This stacked pot garden structure not only serves as a stunning garden decor (with beautiful blooms) but also attracts birds to your garden. Love it?
#2 DIY 2-Tiered Pot Planter with House Number
This's one of the craziest things to do for your house number. You have tall flower planter to place at the patio. Don't forget to fill it up with ornamental grasses and spilling plants!
#3 Plant Stacked Crassulas in Stacked Pots
These lovely and hardy Crassulas look pretty on these stack pots, right? They're perfect choices for lazy or busy home owners. It's also incredibly easy to arrange these stacked pots.
#4 Stacked Pot Fairy Garden
Why not build a fairy garden out of stacked pots? This DIY project will drive your kids crazy.
#5 Stacked Pot Bird Bath
Here is a good way to attract birds to your garden. This bird bath is friendly to your budget, right? It can be made from old or functioning terracotta pots.
#6 Rustic Tipsy Pot Flower Tower
Looking for unique flower art work for your garden? This rustic tipsy pot flower tower is right up your street.
#7 Clay Pot People
This DIY garden stacked pot project is great to do with your kids. Simple plain terracotta pots make an exciting material to make clay pot people. Roll up sleeves and give them a try!
#8 Tower of Herbs
Need more room for your garden herb? This stacked pot herb garden comes as a solution. Save you a lot of space while providing enough room for your herbs to grow.
#9 Stacked Terra Cotta Fountain
Love this terracotta fountain for your garden?
#10 DIY Stacked Scarecrow Pots
An awesome idea to get into Halloween's spirit. If your kids get interested, feel free to let them involve in. You guys will have a lot of fun together.