Shrubs offer a variety of landscaping uses. For instance, you can use them to block your neighbor's line of sight into your backyard, to create a privacy row, or to edge a walkway. They even make fantastic statement pieces or backdrops behind your flowerbeds. They are so great! That is the reason why in this post today we want to write about them. And here are 20 Beautiful Flowering Shrubs to Add Color in The Garden More Vivid.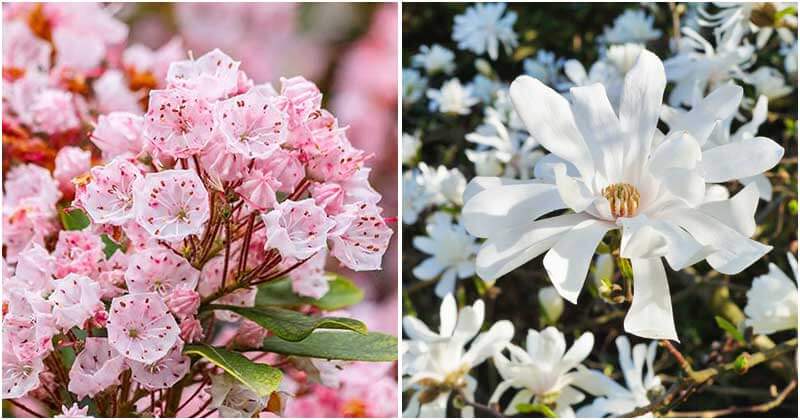 There is nothing better than drinking a cup of tea in the early morning and enjoying the beauty of these beautiful flowers, right? If you want to add natural elegance to your garden, these shrubs will come as the solution. You grow them once but can enjoy them for years. Moreover, these shrubs are low-maintenance, so both lazy and busy gardeners can grow them. Some even create pretty shade for your garden. It's time to add them to your boring garden!
#1 Common Camellia
The camellia blooms primarily from winter to early spring. Their leaves are dark green and glossy, while their peony-shaped blooms have thick petals that range from white to pink and red.
#2 Azalea
Fully bloomed azaleas are an indication of spring. Flowers come in multiple shades of pink, purple, and white, and heirloom.
#3 Alpine Rose
The alpine rose, another rhododendron variety, is an evergreen shrub that enjoys blooms of whites, yellows, pinks, and purples in the springtime. They love being planted in partial shade under tree canopies.
#4 Rose of Sharon
The rose of Sharon shrub shows off its large, abundant flowers from summer to fall.
#5 Hydrangea
Hydrangea shrubs bloom large flower heads that look like clouds, are easy to grow, and are more versatile. These plants thrive as individual accent plantings, as large hedges, and in containers, reaching full bloom in the summer.
#6 Shrub Rose
The shrub rose option is great for situations that call for more drought-tolerant and versatile plants. Best of all, shrub roses come in a ton of different colors, and most bloom once or twice per season.
#7 Andromeda
Andromeda possesses their signature flowers, their foliage transforms into a copper hue, and blooms are replaced by red berries shortly after. The shrubs can handle full sun to partial shade, but are less likely to produce many flowers in shady conditions
#8 Mountain Laurel
The mountain laurel shrub produces uniquely bell-shaped flowers in white, light pink, red, or a mixture, from late spring to early summer.
#9 Forsythia
Forsythia is also known as golden bells, the bright yellow flowers of the forsythia shrub bloom earlier in the year than most and have the most colorful in early spring. It is able to tolerate different types of soil as long as it drains well, and plants with access to at least six hours of light per day will produce more flowers.
#10 Lantana
Lantana shrubs have brightly colored flowers that bloom in late spring. Their small flowers grow naturally in a rounded clustered shape and give off a slightly citrusy scent that pollinators go nuts over.