Why does your backyard need a shade structure? It creates a nice place for you to relax regardless of the hot weather out. Some work can even deal with rain, outdoor umbrella, for instance. We've rounded up 20 best DIY backyard shade ideas that you should try. These will serve for multiple purposes, functioning and garnishing. They will be a focal point in your backyard, making it less boring.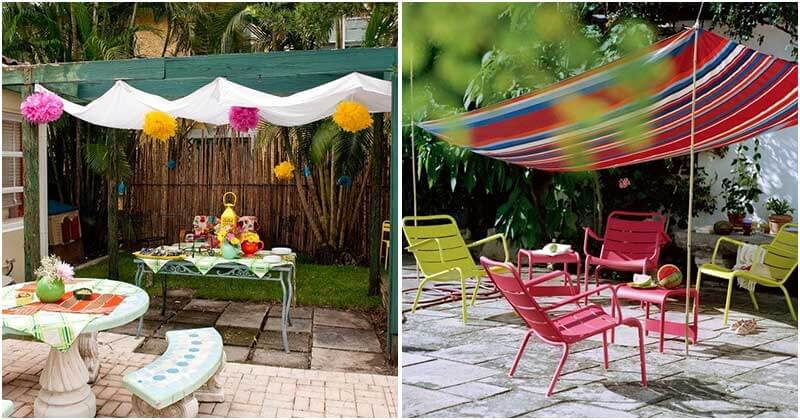 These backyard shade projects come in a variety of materials, ranging from outdoor umbrella to pergola. Some're simple and quick to proceed while some need more time and budget. It really depends. Just look through all and pick out one that fits in your backyard design. Interestingly, many of these are helpful for your patio. If your house only has patio, arrange a shade structure for it like what you would do with the backyard. It's also an ideal place for you to relax and greet guests and your kids to play in. Ready to give these a look? Here we go!
#1
Dress Your Pergola
Fall in love with this pergola decoration? Just apply this for yours.
#2
Plant a Vertical Garden
Why not build vertical garden walls to create shade for your outdoor space? These also serve for cooking and garnishing purposes.
#3
DIY Embellished Sail Shade
One of the cheapest shade structure for your backyard is here. This sophisticated DIY sail shade looks pretty cool, right?
#4
Old World Charm
All it takes is a classic striped blue and white awning.
#5
DIY Outdoor Pergola
Pergola is a classic outdoor shade structure. You can even grow vines or climbing fruits and flowers in here.
#6
Choose the Best Outdoor Umbrella
Another simple way to create shade for outdoor space is arrange an outdoor umbrella. Choose a good one so that  it can stand against the sun and the rain.
#7
Make a Privacy Screen
This privacy screen also create shade for your backyard, like what it would with curtains.
#8
Shady Deck
If you prefer modern garden decor, this shady deck is an excellent choice for you.
#9
Up the Fun Factor With a Tiki Umbrella
This tiki-style umbrella surely brings some atmospherically tropical vibes to your outdoor space .
#10 Sunbrella Curtains
These sunbrella curtains withstand all-weather conditions, creating pretty shade and privacy for your outdoor space.