Sophisticated stone nail designs are not the right choice for summer, especially when you have many trips to go. Instead, people often prefer simplicity, lightness, and loveliness. This year, cartoon nail designs have surpassed many competitors to officially step on the throne.
Inspired by childhood cartoons or some of today's favorite works, these nail designs are quickly welcomed by many sweet girls. In addition, they can also be transformed into many different styles. Let's check the top 25+ cartoon nail designs now!
#1
Let's start with a cartoon character that is familiar to everyone – the lovely robot cat Doraemon.
Source: unknown
#2
Besides the Mickey Mouse cartoon, Donald was included in TV Guide's list of the 50 greatest cartoon characters of all time in 2002.
Source: carokinomoto
#3
Hello Kitty cat pattern is also extremely lovely and cute. With the main color of pink – white, this nail model promises to bring you the sweetest nails.
Source: unknown
#4
Totoro is a Japanese animated film known for its gentle and mellow demeanor. The image of innocent and lovely friends is realistically depicted on the fingers, making people look at and immerse themselves in the movie's setting.
Source: unknown
#5
Like Doraemon, Mickey Mouse is also the childhood of many people. Therefore, he appears quite often in cartoon nail designs, from simple, and gentle to sophisticated.
Source: unknown
#6
The bright and beautiful yellow color will definitely be very suitable for girls who love youthful and dynamic style.
Source: unknown
#7
The princess model will coordinate with gentle pastel tones while using simple textures to maintain elegant beauty.
Source: unknown
#8
Having mentioned Disney, how can you not be without cute cartoon nail designs from Pixar's house, right? If Disney is said to be elegant, surely Pixar will represent mischievous and dynamic features.
Source: unknown
#9
These Ghibli nail designs have a beauty that is a combination of 50% Disney elegance and 50% Pixar personality.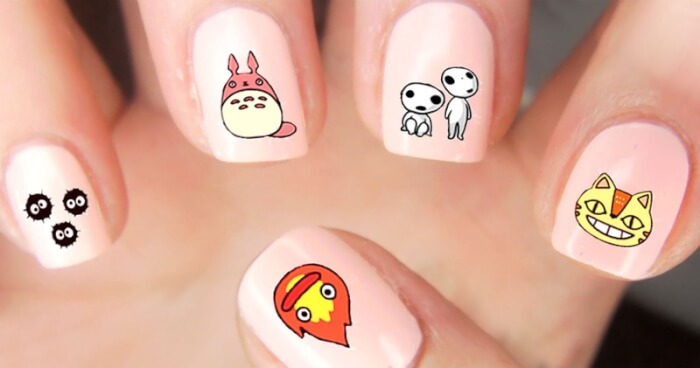 Source: unknown
#10
Featuring classic artwork from Disney –  Snow White is the inspiration for countless artistic designs, including nail art.
Source: unknown
#11
Brave is the new Disney Pixar movie set, giving viewers great messages and melodious lyrics. So Brave-inspired nail art is also seen as a source of inspiration for a life-wanting color.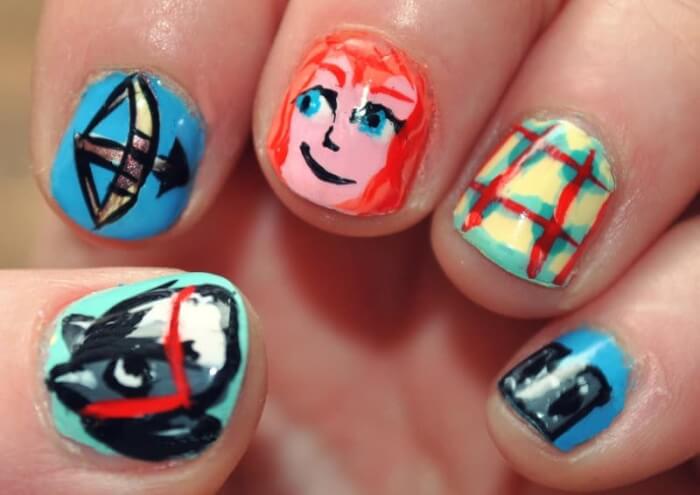 Source: unknown
#12
This nail set is associated with the image of a mischievous Sponge, suitable for girls with strong personalities. With eye-catching yellow tones, you can combine this nail design with hot-colored outfits.
Source: unknown
#13
The animated film Frozen was a huge success when it debuted. Besides all the recognition that has been given, it has become one of the most influential timeless animated masterpieces of the latest generation.
Source: It's all about the polish
#14
Girls who have a child's soul and want to own a particularly lovely nail design can't ignore Peppa's cartoon nail.
Source: Adventures in Acetone
#15
After the minion made its mark on t-shirts, mugs, and even cell phone cases, it has now found a place on the fingernails.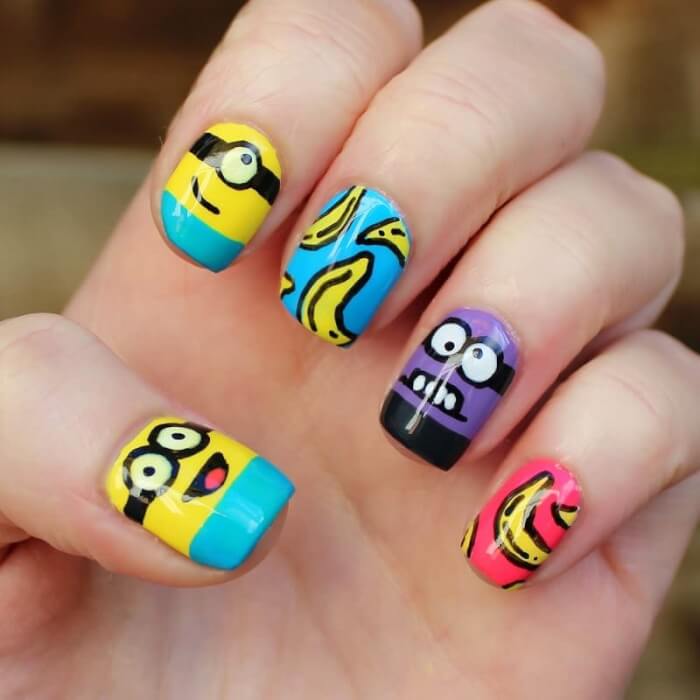 Source: unknown
#16
The sleeping beauty princess with beautiful thick golden hair that makes many people flutter is designed by skillful nail stylists for special hands.
Source: naileditnz
#17
The inspiration for this nail design is based on the famous Japanese animation: Spirited Away. This is a movie with high turnover, along with tons of humane messages in life.
Source: unknown
#18
The image of a mouse and a cat "playing and chasing" is bold in everyone's mind when it comes to Tom and Jerry. Therefore, this nail model depicts the image of a cute mouse and a mischievous cat.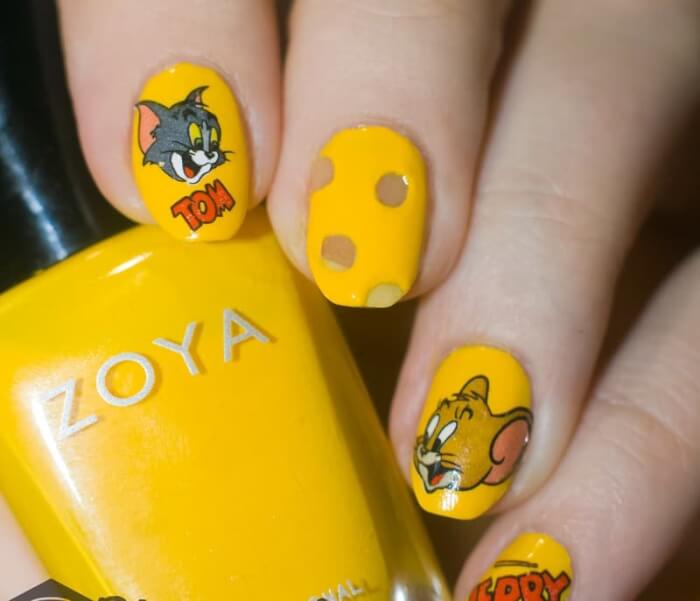 Source: unknown
#19
The gray friend – Totoro is too familiar with both girls and boys.
Source: Nails Arc En Ciel
#20
With three main colors: red, blue, and green, you will have an extremely cute and attractive nail design.
Source: Kyletta
#21
If you are a fan of the movie "Oggy Cat and the mischievous cockroaches", then surely you will not forget the humorous character Oggy and the naughty experts – Dee Dee, Marky, and Joey.
Source: Asi nails
#22
You can arbitrarily be creative and choose nail designs according to your preferences with many characters of Pixar.
Source: Mi Dang