It's exciting to set up a bench in your garden and backyard. This bench serves for both functioning purposes. It initially enables you to sit on and get relaxed after doing gardening or walking around your home. If a close friend comes by your home, you may even chat with her on the bench. So good, right? Your garden bench is also a stunning decor. It makes your garden (or backyard) less boring. Why? It comes in many materials, colors, and decorations. A whole new one bought at stores or a simple DIY product would be ok.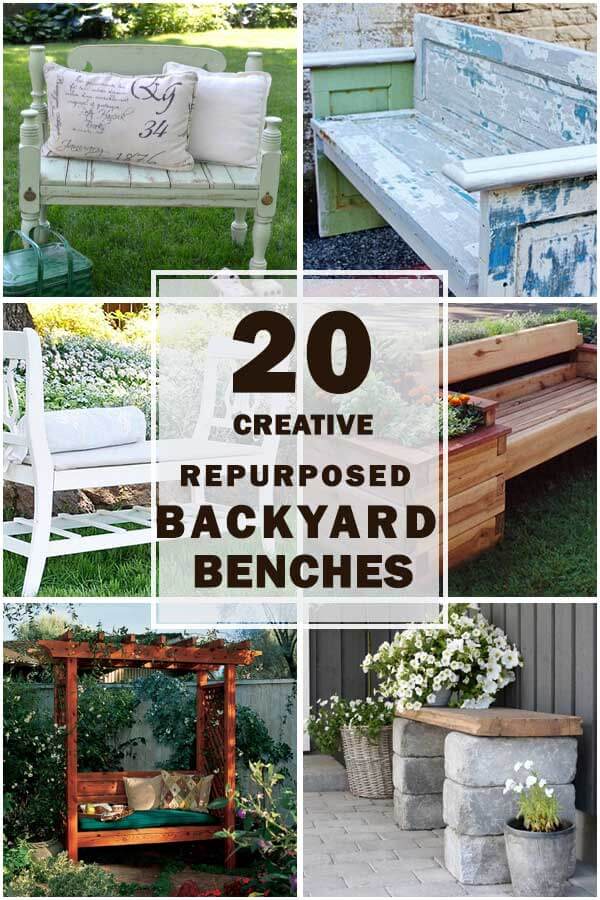 In this post, I'm glad to introduce 20 creative repurposed benches for the garden and backyard. If you are looking for fun, easy and budget DIY garden projects, these are the way to go. Leftover bed frames, wood slab, worn doors, brick and plank… there are many materials to use in here. With a little bit of skill and effort, you can make your own bench. Let's get started!
#1 Repurposed Bed Bench
If you have old bed frames waiting for evacuating, why not upcycle them into a bed bench? It stands beautifully in your garden and backyard.
#2 Brick and Plank Garden Bench
This is one of my favorite pretty, natural-looking garden benches. All it takes is few bricks and a wooden plank. Get ready to give it a try?
#3 DIY Planter Box Bench
Take some extra seating at planters is possible now. This planter box bench will become the star of your garden and backyard.
#4 Repurposed Chair Bench
Old chairs are also exciting materials to make upcycled benches. They're beautiful enough to go inside or out.
#5 Garden Bench with Arbor
Want to turn your garden bench into the next level? Provide it with an arbor. You can relax here day and night. Your kids will also love playing in here.
#6 Cheap Tree Bench
This backyard bench costs you only $100. How come? It's made from an old set of kitchen chairs.
#7 Repurposed Door Bench
If you want to breathe new life into worn doors, look no further than this repurposed door bench. Spend only an hour, and you have a simple yet functioning bench for your garden and backyard.
#8 Bathtub Outdoor Sofa
Do not want to evacuate your old bathtub? Transform it into an outdoor sofa. It will be a relaxing place that both kids and adults love cuddling in.
#9 Farmhouse Bench With Storage
This should be added to DIY garden storage and organization project. You can take extra outdoor seating and also store any tools and toys. So good, right?
#10 Sturdy Wood Slab Bench
Benches do not only serve for seating and storage purposes. It also makes a decorative porch setup.