There are so many vegetables and fruits that you want to grow them in the garden. But your garden isn't enough space for all. However, you still can grow your own food, even in the smallest areas. Dwarf fruit trees offer one wonderful way for you to make the most of the available space. They can be grown in even the smallest of growing areas, or even simply a patio or balcony. Many can even be grown in large pots or containers.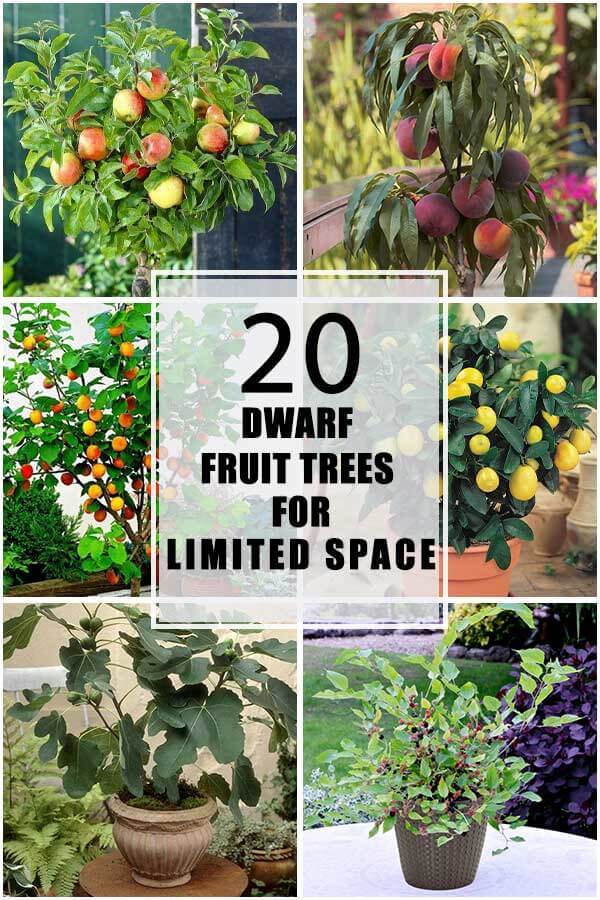 If you choose the right dwarf fruit tree for the location and situation where you live, you could be enjoying fresh fruit from your garden for years to come. Aside from a bountiful harvest of fresh and nutritious fruit, these trees enjoy beautiful blossoms making them an attractive addition to your garden. And in the post today we've gathered many dwarf fruit tree varieties to choose from. They are for you, let check them out with us!
#1 Apples
Apples are one of the most common garden fruits in temperate climes. The size of a dwarf apple tree is determined by its rootstock. There are extreme dwarfing rootstocks (such as M27), dwarfing rootstocks (such as M9 and M26), and semi-dwarfing. It is worthwhile looking at which rootstock has been used for your dwarf apple. This will help you determine whether its eventual size will suit you and your backyard.
#2 Pears
Pears are another popular choice for some temperate climate gardens, and can also be placed on a dwarfing rootstock in order to ensure that the tree does not get too big. 'Concorde' and 'Conference' are two popular pear varieties that can be grown as self-fertile, dwarf trees.
#3 Quince
Dwarf quinces will usually be supplied in a 4 ltr pot and, depending on the size of the container in which they are grown, reach an eventual height of around 1.5-2m. The fruits will ripen perfectly when grown in a sunny location.
#4 Plums
While there are no extreme dwarfing rootstocks for plum trees, there are a number of semi-dwarfing rootstock options that help to limit the size of these trees for smaller gardens. These include Pixy, Plumina, and VVA-1. Dwarf plums in a range of varieties can be grown in pots and will reach an eventual height of no more than 2m.
#5 Cherries
Cherries come in a range of sweet and sour cherry varieties that are suitable for many temperate climate gardens. They can be made less vigorous through the use of the Gisela 5 rootstock. If grown in the ground, cherries on this rootstock will tend to grow to around 2.4-3m tall. However, their size can be limited through growing in a container, and through judicious pruning.
#6 Medlar
These trees will do best in sunny, sheltered sites and thrive in deep, fertile, and well-drained soil. When grafted onto the right rootstock, however, medlars can also be a dwarf or patio tree option. Depending on the size of the container in which they are placed, they will reach an eventual height of around 1.5-2m.
#7 Mulberry
Mulberries can be grown against walls if space is limited. But since these trees are more bush-like in shape, size, and habit, their growth can also be curtailed by growing them in containers. You can prune the trees for size after the fruits are harvested in the fall.
#8 Apricots
Wavit, a plum rootstock, is sometimes used for apricots and will create a tree up to 3m tall if grown in the ground. Container apricot trees will always be grown on a suitable rootstock. When restricted in size by a large container, and through careful pruning, they can be an ideal choice for smaller spaces.
#9 Peaches
Peaches of a medium to small size are also sometimes grown on a Wavit rootstock. The size of peach trees can also be curtailed if they are grown in containers. Peach trees can also easily be trained to fit into a smaller space, and carefully pruned for shaping and size.
#10 Figs
Fig trees grow large if planted in the ground in optimal conditions, however, they can be kept much smaller and in check when grown in small spaces in containers.