Want to make your small houseplant planters less boring? This post is right up your street. It shares 20 eye-catching DIY houseplant pot cover ideas. These pots are not only the home to your houseplants but also a stunning focal point in your home. It means that they serve for both functioning and decorating purposes. When you put pretty cool mini houseplant pots on your working desk or any corner at your home, they are easier to grasp your attention.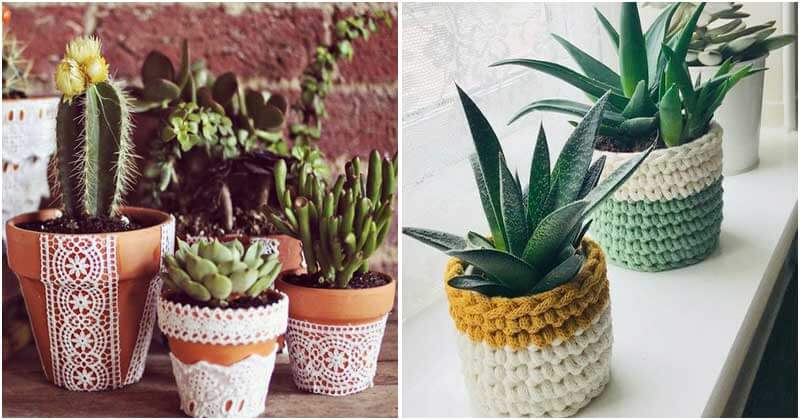 And here are 20 eye-catching DIY houseplant pot cover ideas we would like to share today. Simple and interesting, these are worth adding to DIY weekend projects. If your kids love joining you, just let them in. They are cleverer and more creative than you think. They even perform more excellently than you do. And more importantly, you and your kids will have a lot of fun and laugh together. Is there anything better than this?
1. Beautiful Knit Flower Pot Cover
2. Decorate Flower Pots with Fabric
3. Creative Flower Pot Cover
4. Easy Fall Succulent Pot Cover
5. Vintage Fabric Pot Cover Idea
6. DIY Fabric Plant Pots
7. Houseplants in Rustic Brackets
8. Decoupage a Design
9. Knit Pattern Pot Cover
10. Love This Plant Pot Cover Idea?
11. Affix Twigs
12. Decorate With Lace
13. Put On A Happy Face
14. Houseplant Pot with Bow Tie
15. Paint and Tie on Twine
16. Clothespins Pot Cover
17. Colorful DIY Flower Pot Cover Idea
18. Stamp on a Label
19. Wrap in Burlap
20. Crochet a Cover