Seeking for something to make your garden attractive from the outside? Just build beautiful fence for it. You can paint your fence with favorite color that fit for your garden plants and space. If you want your garden fence more eye-catching, just hang plant and flower planters on it. They look pretty on here. It's worth mentioning that the garden fence will create the privacy for you and your family, especially when having party or gatherings. It also prevents animals from stepping into your garden. So good, right?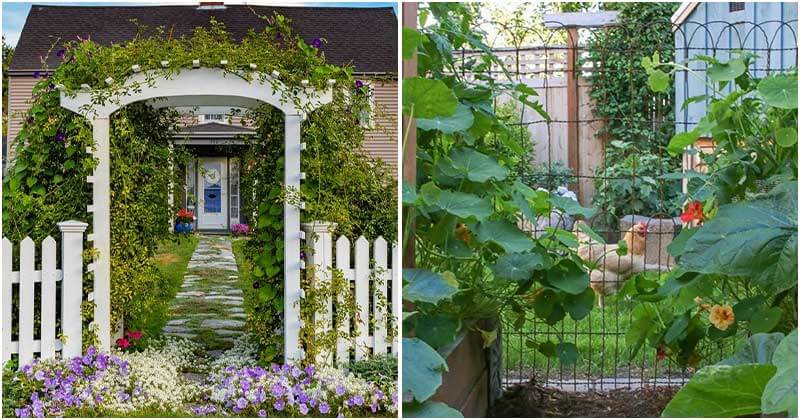 In this post, we're glad to share 20 fantastic ideas for garden fence. They come in a variety of materials, ranging from white lattice fence to pallet fence. Some are affordable while some need more time and budget. Some are easy enough to add to DIY project while require more skills. It really depends. Get ready to give them a look? Here we go!
#1 Fencing Covered in Climbing Plants
This garden fence is elegant with beautiful white climbing flowers growing along side.
#2 Wire Fence
If you love vintage fence, this is an excellent choice for you. Along with creating a charming view for your garden, the fence keeps out curious hens.
#3 Patterned Fence
This features a distinctive pattern and one-of-a-kind materials.
#4 Accent Fence
Do you love this simple garden fence idea? Feel free to add it to DIY project!
#5 Classic White Archway
We're all no longer strange to this classic white archway.
#6 Wooden Fence with Wispy Grasses and Towering Greens
Seeking for garden fence that creates a backyard paradise? This idea is perfect for you!
#7 White Lattice Fence
Itching to white color? Why not build beautiful white lattice fence for your garden? A single white color is always great to grasp your eyes.
#8 Garden Fence That Doubles as a Privacy Screen
I just love this garden fence! It creates more space for adults to relax and kids to play.
#9 Modern Black Fence
If you prefer modern style for your garden, this black fence will be right up your street!
#10 Rolled Bamboo Fencing
Bamboo stalks creat rustic privacy for your garden. This DIY garden fence project is friendly to your budget.