If your garden (or backyard) has enough room, install an outdoor kitchen here. They serve for both functioning and garnishing purposes. An outdoor kitchen helps a lot with outdoor dinners, parties, and gatherings. It's easier your you to prepare good meals in here, especially when you need someone to support your cooking. You get more space to move and can chat with your guests while cooking. So good, right?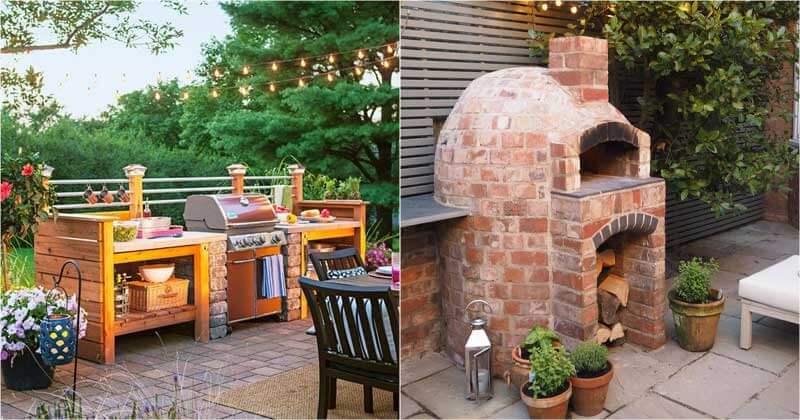 In this post, I'm glad to share 20 fantastic outdoor kitchen ideas. If you need something to spice up your cooking time and spruce up outdoor space, these are right up your street. Some of them are easy enough to add to DIY projects while some need to be proceeded by skilled workers. It requires a bit more time and budget but is worth paying for. These outdoor kitchens can work for years. Let's check them out!
1. DIY Grill Station
Look no further than this DIY grill station for outdoor grill dinner. All it takes is stacked stones and a DIY wood structure. Quite easy, right?
2. Under-Awning Dining Space
The weathered barn doors from Tall Cotton Supply sliding wide open are what make this outdoor kitchen stand out. They allow the indoors to merge with the outdoors, so the cook doesn't feel isolated.
3. Wood-Fired Outdoor Pizza Oven
A perfect pizza night should be hosted in here. If you prefer rustic garden structure, just set up this wood-fired outdoor pizza oven in your backyard.
4. Cozy Patio Outdoor Kitchen
Build a modern outdoor kitchen right in the patio? Why not? It's an ideal place for family grill party.
5. Outdoor Fireplace
This stucco mission-style fireplace, complete with antique Spanish tiles is the perfect place for family to gather and roast s'mores.
6. Backyard Party Pavilion
This backyard party pavilion hosts alfresco feasts, football-viewing parties, and even Thanksgiving dinners.
7. Rustic Outdoor Kitchen
If you have a very large garden, dress it up with this rustic outdoor kitchen. Situated between troves of shady trees, it covers space for pizza oven, dining area, and lots of spots for lounging.
8. Built-In Outdoor Kitchen
This California home's built-in concrete cook space was inspired by a Pinterest photo featuring the work of Dutch designer Piet-Jan van den Kommer of WWOO.
9. Patio Kitchen
Another exciting idea for patio kitchen. Love it?
10. Modular Outdoor Kitchen
A customizable, concrete outdoor kitchen that's meant to be affordable and virtually maintenance-free.