Do you know that many plants thrive under water? Onions, lettuce, spinach, rosemary, basil, or peppermint is no long strange to us right. They're commonly grown directly in soil in your garden or containers. But the point here is they do well in a jar of water. This is a perfect solution when your garden does not have enough space for your favorite plants or you love building a small indoor garden.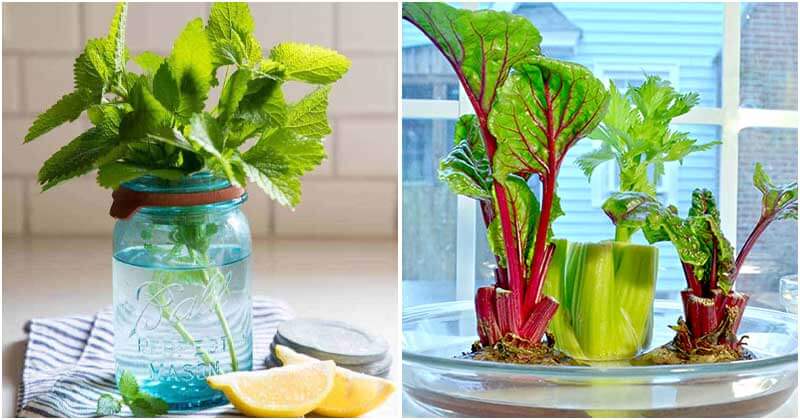 Here are 20 herbs and vegetables that you can grow in water. We're glad to share them to you guys. For herbs, you can propagate them from cuttings. Be sure to pick strong ones. Change the water once a week without disturbing the cuttings until the roots start growing. These herb water jars are also a stunning décor for your home. Regarding vegetables, some are even replanted from kitchen scraps. So good, right?
#1 Lemon Palm
The lemony scent of lemon palm makes it a great addition to fresh tea, especially in the winter. To propagate this mint-family herb in water, you just need to take cuttings in spring or fall and root them in a jar of water. You should keep your plant in a warm place that receives plenty of bright indirect light.
#2 Peppermint
It's easy to grow peppermint in water. Put fresh cuttings in a jar of water. That's all. Peppermint is commonly used for it cooking, medicinal, and gardening uses.
#3 Garlic
You are definitely missing out if you do not grow garlic in water. It has amazing cooking and medicinal uses. Garlic even repels flies and mosquitoes in your home.
#4 Lettuce
Lettuce is a staple addition to salads. There is no reason for not growing it at home. This veggie does well in water.
#5 Oregano
Oregano can not be ignored here. This pungent herb adds flavor to almost any vegetable. Simply take cuttings of fresh growth and pot them up in water. Be sure to pinch the growing tips as soon as the plant starts to grow well.
#6 Green Onion
Like Garlic, green onion does well in water. Do not hesitate to grow it now!
#7 Rosemary
Did you know that rosemary cuttings thrive in water? This sweet-scented herb is one of the best herbs to grow in water all year. They're not only used for cooking but also for garnishing and medicinal purposes. Amazing!
#8 Beets
Beets also do well in water. You can even start with kitchen scraps.
#9 Spearmint
Spearmint is another mint variety mentioned in this collection. You can grow new plants by putting fresh cutting in water. These thrive in here.
#10 Thyme
Take cuttings of new growth that is green in color in mid-spring to early summer, before the plant starts flowering.