A garden will be more gorgeous when having a beautiful path. Just imagine how you feel when walk along a beautiful path leading to the garden? Like in a fairy land that we used to read. You can relax and enjoy the beauty of the surroundings. And the kids? They would love this garden path as they are a pretty place to play in. I've visited the vintage garden of my family and fell for all decorations in it. Flower plants, garden path, ladder planter,… they all contribute to the harmony of the garden.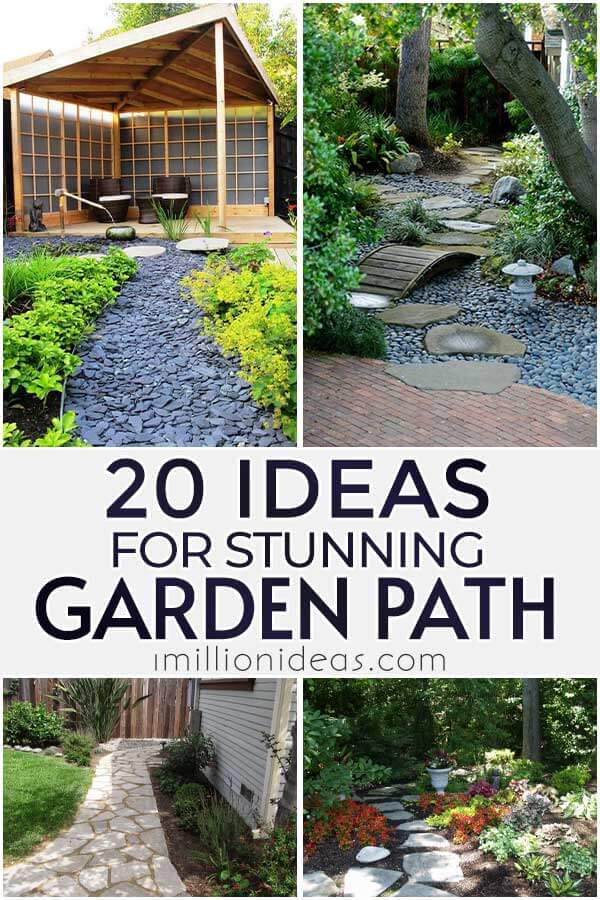 Here are 20 ideas for stunning garden path I would like to share you guys. If you want to innovate your garden, you can consider these. They surely make your garden more impressive. Some are simple and fun to DIY while some require more effort and budget. It really depends. Even if you do not have is need now, these still make sense. Watching beautiful garden may make us dream more about designing and owing one. Let's check them out!
#1 Small Stone and Slate Modern Walkway
If you prefer modern style for your garden path, just use colored gravel or slate chips.
#2 Stepping Stone As Garden Path
Another affordable DIY project for garden path is use stepping stone. To make it more impressive, you may plant some beautiful ground-cover plants in between.
#3 Easy DIY Flagstone Garden Paths Set In Sand
You can make an awesome walkway for your garden with dragstone. It is easy to set in sand and makes the structure stylish.
#4 Easy Landscaping DIY Gravel Garden Paths
This garden walkway is definitely friendly to your budget, and also easy to make. All you need are wood chips, gravel or decomposed granite.
#5 Wood Mulch DIY Garden Path Ideas
This beautiful pathway is made from Wood Chips, gravel and stepping stones. They are soft underfoot, but solid enough to handle heavy foot traffic or a loaded wheelbarrow.
#6 Woodland Garden Paths With Natural Stepping Stones
Natural stones are always the perfect materials to create beautiful pathways through a woodland garden.
#7 DIY Brick Garden Path
Easy to make and budget-friendly, this brick garden walkway is enough for DIY project.
#8 Paver and Grass Garden Path
This stunning garden path is the combination of paver and grass. It's modern and adds more green to your garden.
#9 Grass Walkway in The Garden
A grassy area is beautiful. Why not make a garden walkway all with grass? It reduces foot traffic and offers a pretty place for those love walk on barefoot.
#10 Japanese Garden Path
A poetic Japanese garden walkway. It features pebbles served as streams and rivers, and a stunning little wooden bridge.