If you want to add a new appearance to your garden, you might consider these vintage gardens. It's rustic but still has something charming inside. That's not all because I'm a fan of vintage style. Vintage gardens are awesome. They're made with simple materials but feature the harmony of the space. A lot of green is cleverly gathered, making you feel like you are walking through a fairy land. It would be the perfect place to relax after a long week. The kids would also love it because they have a good place to place in.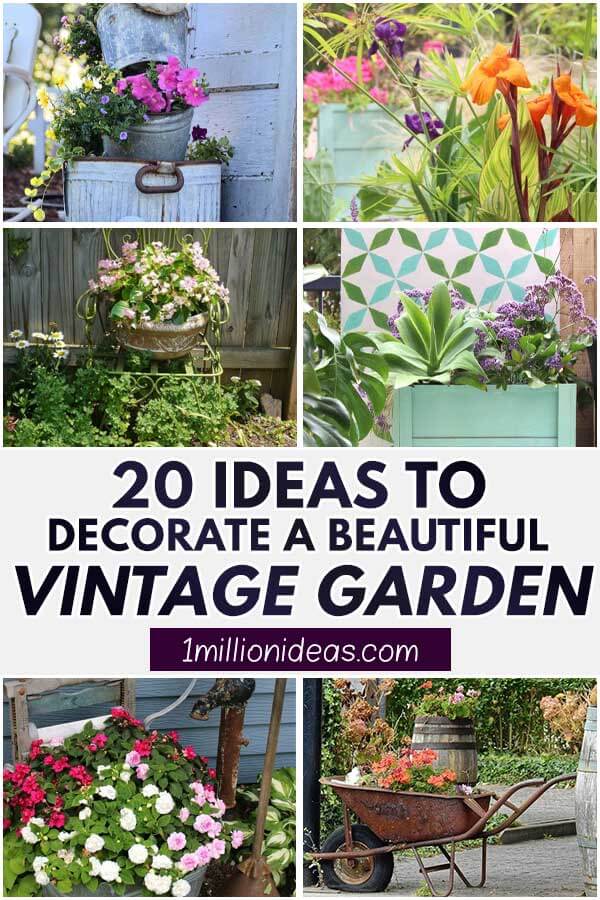 And, here are 20 ideas to decorate a beautiful vintage garden. Some are quite easy to make while some need more effort and budget to finish. It depends. Even if you don't need to innovate your garden, these still help. Seeing pretty spaces are worth. No one could resist stunning garden art work. Let's check them out!
#1 Decorate A Vintage Garden Fence
To make this garden fence of vintage style, you need old plates and a shabby chic chair served as a plant stand in front!
#2 Build a Large Farmhouse Wood Planter
This vintage garden project does not require much effort and time to finish. Every gardener can afford it.
#3 Old Bucket Vintage Planter
An old metal bucket can be transformed into rustic planters. They're great to hang on the outside wall.
#4 Transform an Old Galvanized Bucket Into a Beautiful Showpiece
If you are finding a creative DIY project for your vintage garden, just go for this. An old galvanized tub can be made into a beautiful showpiece.
#5 Create A Vintage Garden In Wheelbarrows
Rusty old wheelbarrows could be a beautiful vintage garden planter. If you already have these in your house, just turn this idea into reality.
#6 Easy DIY Country Garden Bench
An easy DIY project for your vintage garden. You can create this country garden style stone bench easily.
#7 Old Ladder Vingate Garden
This old ladder vintage garden is what every house need. It's not only for vintage style but make your garden space more impressive. Those whose garden does not have enough room for flowers, just give this a go.
#8 Upcycle Vintage Drawer Boxes Into Succulent Garden
You can turn vinatge drawer boxes into succulent garden. This is definitely friendly to your budget and is easy to make, too.
#9 Beautiful Flowers in Old Tub
Just create a charming rustic flower garden from an old tub.
#10 DIY Old Window Planter Box
If you have old window frames, don't throw it away. With a clever hand a little bit effort, you can turn it into pretty planter box of vintage style.