It's always great to have some flower planters in your home. They not only help you save a lot of space (when your garden is lack of it) but also create a unique décor for your home. There are a variety of flower containers (store bought or DIY) for you to choose from. But a pretty cool DIY one will be easy to grasp the attention. Turning old (or functioning) materials into something new for garnishing and gardening purposes. It's a rewarding process!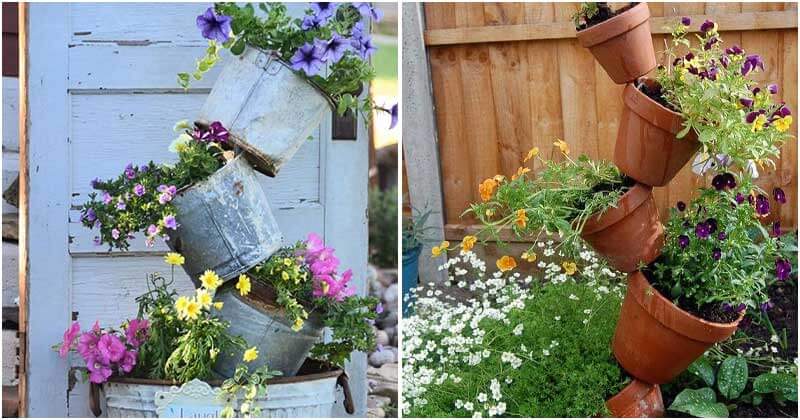 This post is then written. It shares 20 inspiring ideas for DIY flower towers. These do not require much time and effort, so you can definitely add them to your "to-do" list. After finishing, you can place these cool removable flower gardens right in your garden, backyard or on the balcony. Just make sure to give your plants enough lights and water for their healthy growth. Let's check them out!
#1 Rustic Galvanized Tipsy Pot Flower Tower
If you prefer vintage garden style, this decorative flower tower is an excellent choice for you. It's made out of old rustic metal pots.
#2 Stacked Pot Flower Tower with Birdbath
This flower tower not only serves as a garden decor but also attracts birds to your garden. Why not add it to DIY project right this weekend?
#3 House Number Flower Tower
Wanna make your house number board less boring? This flower tower is perfect for you!
#4 DIY Succulent Flower Tower
Your succulents look cool when planted in here.
#5 DIY Terracotta Pot Flower Tower
This is one of the funniest garden project to make with terracotta pot. This flower tower will be striking in your garden when the flowers come into their time.
#6 File Cabinet Flower Tower
No longer want your file cabinet? Turn it into a beautiful flower towers. It will be the star of your garden when the flowers come and bloom.
#7 DIY Pumpkin Flower Tower
Here is a great idea to get into Halloween's spirit!
#8 Mosaic Tipsy Pots with Bird House
This is actually a garden art work. It requires more time but is definitely worth trying.
#9 Build a Flower Tower out of Stacked Pots
Another pretty beautiful flower tower to make with your pots.
#10 Earth Tower Vertical Planter
Itching to vertical gardens? This flower tower surely keeps you satisfied. You can grow a variety of flowers in it. Imagine how beautiful it will be when the flowers appear.