If you are looking for a fresh and healthy vegetable that you can grow and harvest all year, lettuce will be an excellent choice. Your salad would never be complete without having it. Lettuce salad is a delicious appetizer and side dish for every meal, both daily dinners, and gatherings. It's also worth mentioning that lettuce is also easy to grow. You can plant it directly in your garden, or in containers. You can build an indoor lettuce garden. I've seen some people grow lettuce in water and keep it indoor. Amazing?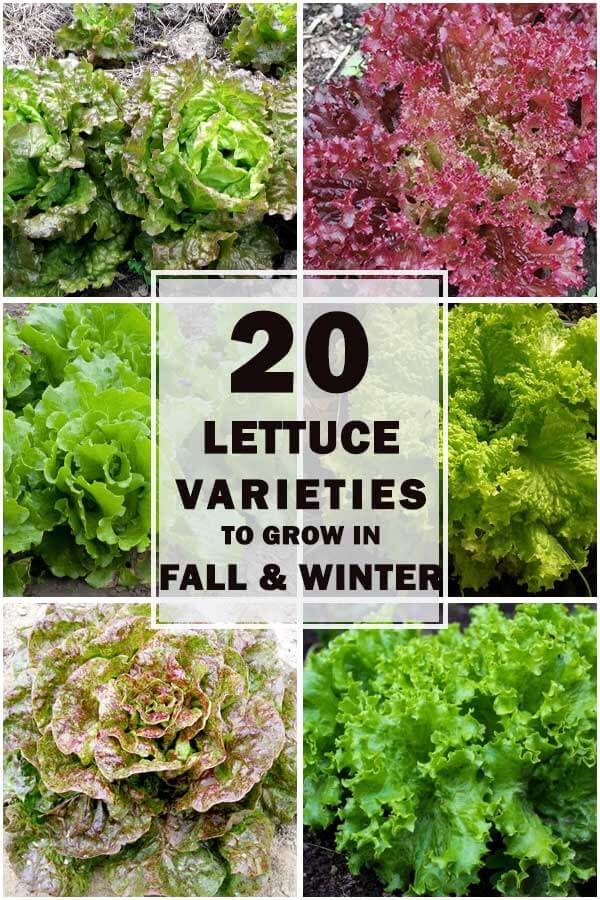 In this post, I'm glad to share 20 lettuce varieties to grow in fall and winter. As lettuce comes in many different species, choosing the right varieties for each season is necessary. Fall has already been here, just pick out some varieties to grow in your garden. It's a rewarding process. When your lettuce is ready to harvest, pick it up. Homegrown veggies for cooking. Nothing is better than that.
1. Mascara
Very curly and frilly leaves retaining their dark red colour even in hot weather.
2. Drunken Woman
Another popular loose-leaf lettuce recommended here is drunken women. It's an Italian heirloom lettuce that produces attractive bright green leaves with ruffled (almost frizzy) edges in a deep bronze color.
3. Black-seeded Simpson
Black-seeded Simpson lettuce has been hugely popular for over 150 years. It's one of the most tender and delicately flavored leaf lettuces ever bred.
4. Speckled Bibb
This butterhead lettuce is known for its attractive light green leaves that are spotted with 1/4″ red dots.
5. Oakleaf
As its name may suggest, individual leaves of oakleaf lettuce are deeply lobed and shaped like the leaves of oak trees.
6. Rouge D'Hiver
This red Romaine lettuce is prized for medium-red tinted leaves and excellent flavor.
7. 'Merveille des Quatre Saisons'
This French heirloom lettuce is crisp and tender. It's also known for its reddish leaves.
8. Winter Density
Also Craquerelle du Midi, Winter Density lettuce (Latuca sativa) is a cross between butterhead lettuce and romaine lettuce.
9. Nevada
This iceberg lettuce still tastes sweet and mild long after other lettuce plants have bolted.
10. Tom Thumb
Tom Thumb lettuce plants are known as a unique variety of butterhead or bibb lettuce. They produce crisp buttery leaves which form a loose head.