Looking for plants that add lush green and pretty shade to your garden? This post is right up your street. It introduces 20 lush plants for a beautiful shade garden. Some are low maintenance, so both lazy and busy garden owners can give them a try. Not just that some of these plants produce beautiful fragrant flowers that attract bees, butterflies, and other beneficial insects to your garden. A plant that serves for multiple purposes. Deserve to have a spot in your garden, right?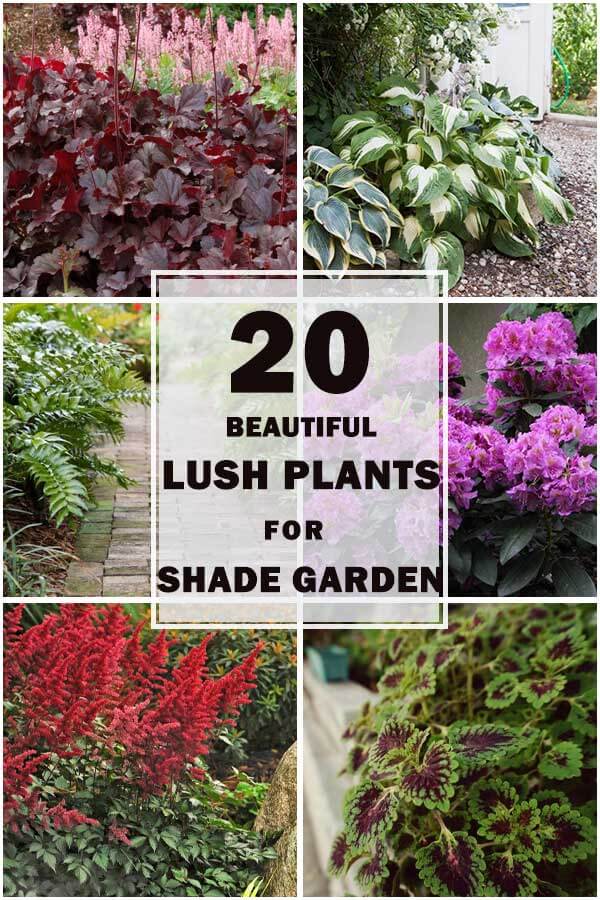 You can grow these lush plants in edge, border, and near the garden fence. They will create a stunning view in here. Some even help other plants in your garden grow better. It's also worth mentioning that some of them are perennial, so they will return your garden season after season, even with a larger scale. Ready to give them a look? Here we go!
1.
Coral Bells
Coral bells are also called Heucheras. Coming in a wide variety of colors, ranging from chartreuse to red to purple to pink, they will add a splash of color to your shade garden. More importantly, these plants pair perfectly with other shade-loving perennials or on their own in containers.
2.
Hosta
Hosta fills shady spots ịn your garden with their leafy textures and colors that pop. They're beautiful perennials, so will return your garden year after year, even with a larger scale. However, these require minimal upkeep to look their best.
3.
Leafy Ferns
You can find ferns in an abundance of varieties, sizes, and colors. They are especially ideal for a shade garden as an understory plant and pair beautifully with broad-leaf hostas. Many hardy ferns tolerate both cold and hot temperatures.
4.
Lungwort
Lungwort is an exciting companion for hosta, ferns, and bleeding-heart. They grow well together. This plant is known for its flowers that change colors from bud to bloom, and the silver-flecked leaves look nice all season long. ' Raspberry Splash' is one of the best lungwort varieties available, offering excellent disease resistance.
5.
Rhododendron
When you see a rhododendron in full bloom (commonly pastels and reds), spring comes. They're commonly grown in nearly any shade, and do best in part to full shade. Hardy in Zones 4 to 8.
6.
Caladium
Caladium is also known as angel wing. It is a South American-native summer bulb that adds a tropical look to the garden with its palm-like appearance. It's known for its charming appearance shade, and the colors of the heart-shaped leaves range from bright red, pink, green and white in multiple variegations.
7.
Hydrangea
Who can't resist these beautiful flowering shrubs? Hydrangeas prefer a little shade to show off their best color, especially in hot southern regions. Grow them in the north, so they can get more sunlight.
8.
Begonia
Begonias are annuals or tender perennials. You can find them in a striking array of colors and varieties. The hardy plant is ideal for shade gardens and thrive in part and filtered sun as well as full shade.
9.
Aucuba
Aucuba is an excellent plant that offers a burst of color in your shade garden. This evergreen shrub is also known as spotted laurel or gold dust and is prized for its yellow-speckled leaves and red berries in the fall.
10.
Mountain Laurel
Mountain Laurel is native to the eastern United States. It bears pink buds in spring that open to white, cup-shaped flowers. This standout evergreen shrub can reach five to eight feet tall and equally as wide. It tolerates shade but blooms best in light shade.