Building a beautiful garden out of a container is such a rewarding journey. It not only saves you a lot of space but also creates a charming home décor. Flowers, succulents, vegetables and herbs all do well in here. This mini version of garden is perfect to place in your garden, patio, backyard, to balcony. Concern about the budget? This doesn't bother you at all. As it's quite simple and fun, you can definitely add it to DIY projects. So good, right?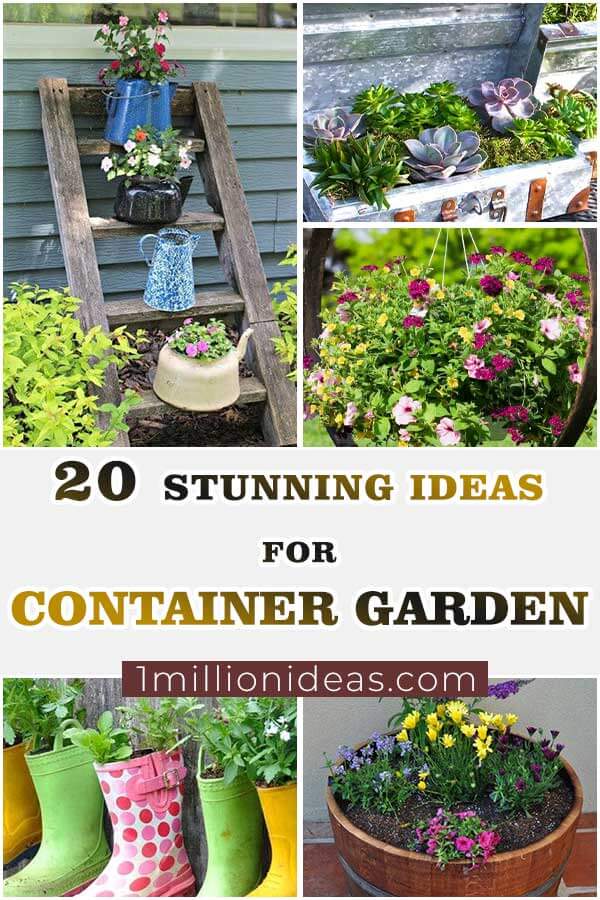 Here are 20 stunning container garden ideas we've rounded up. We're glad to share you guys to make our home greener and prettier. If you can't plant favorite plants directly in soil in your garden, just give these a try. They're a unique addition to your indoors and out. Look through the collection and pick out a project that you love carrying out most. And, don't forget to let us know how it goes.
#1 Vintage Teapots
Old or functioning teapots can be turned into vintage plant containers. They look great on a rustic ladder. Don't hesitate to place it in your garden or lean against the outside wall.
#2 Wine Bottle Planters
This is one of the best way to reuse wine bottles. Hang them on the outside wall, and they will become ideal houses for your succulents and herbs.
#3 Galvanised Steel Suitcase Planters
Is it beautiful? A simple galvanized steel box is transformed into a fabulous travel-inspired planter filled with thriving succulents.
#4 Rustic Vertical House Number Planter Box
Itching to make your house number board less boring? Why not turn it into a flower planter?
#5 Wine Barrel Planter
The wood wine barrel also makes a beautiful rustic garden container. Grow a variety of small plants here.
#6 Vertical Succulent Garden
Another lovely house for your succulents. This vertical garden would be striking on your wall.
#7 Wagon Wheel Hanging Planter
This wagon wheel hanging plant would be the star of your garden when blooming.
#8 Old Bathtub
An old bathtub also makes a pretty house for your bright and colorful flowers.
#9 Wheelbarrow
Another rustic planter that is easy to move around your yard. Love this wheelbarrow filled with flowers for your home?
#10 Old Rain Boots