Protecting the roof of a house from weather damage isn't the only use of roof tiles. Even when they are old or broken, there are many ideas to convert into great garden tools that improve the appearance and quality of your garden and home. So, there is nothing reason to toss them out wasted. Reading this post today and make your own garden decor ideas. Here is the collection of 21 Amazing Broken Clay Roof Tiles Garden Ideas that you will love trying to make everything more beautiful and very decorated.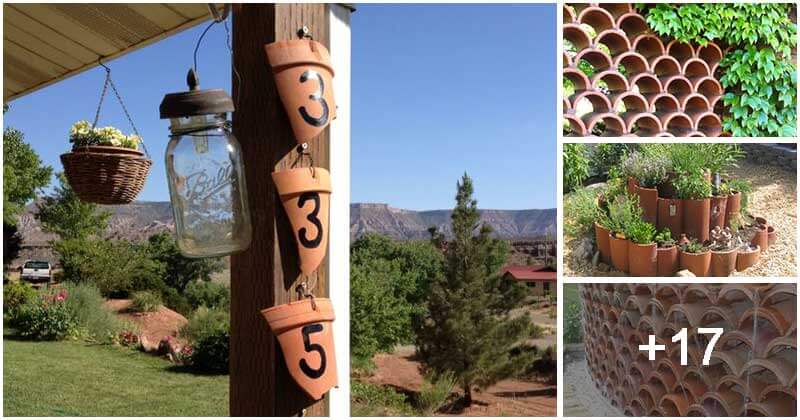 They are incredible crafts and decorations and easy to do. With their rustic color beauty, they can bring your garden a new look. Some very beautiful examples of this included garden edging, flower bed, garden wall to garden marker, and more. Even, others are great and creative home decor ideas like a house number or wine bottle shelves. Whether you are looking for any inspiration, using roof tiles for a new purpose saves them from being wasted, and can greatly enhance the appearance of the landscaping. Now, keep reading and see how many charming decorations you can create with tiles!
#1 Broken Clay Roof Tiles Edging For Lavender Flower Bed
Source: Delphine M.
#2 Broken Clay Roof Tiles For Small Herb Garden
Source: Lina Duque

#3 Spiral Herb Garden
Source: Pinterest
#4 Garden Fence Made From Broken Clay Roof Tiles
Source: Tumblr
#5 Broken Clay Roof Tiles Raised Garden Bed
Source: Mydesiredhome
#6 Broken Clay Roof Tiles For Herb Pots
Source: Rougecabane
#7 Broken Clay Roof Tiles For Flower Bed
Source: Mydesiredhome
#8 Bug Hotel Made Out Of Broken Clay Roof Tiles
Source: Mein-schoener-garten.de
#9 Broken Clay Roof Tiles Garden Wall
Source: Style for style
#10 Broken Clay Roof Tiles For A Sloped Herb Garden
Source: Judith Brandts

#11 Wine Bottle Shelf Made From Broken Clay Roof Tiles
Source: Pankpraktikan
#12 Broken Clay Roof Tiles For The Roof of Greenhouse
Source: Expressen
#13 Outdoor Shower From Leftover Roof Tiles And Bamboo
Source: Nick Longfellow

#14 Broken Clay Roof Tiles For Downspout
Source: Linda Hartgring

#15 Broken Clay Roof Tiles For Garden Border
Source: Kris Van Ingelghem

#16 Gabion Cages For The Garden Using Recycled Wine Bottles And Tiles
Source: Thelandmarkpractice
#17 Broken Clay Roof Tiles For Garden Path
Source: Pinimg
#18 Broken Clay Roof Tiles For Garden Markers
Source: Hardlyhousewives
#19 Broken Clay Roof Tiles For House Number
Source: Andrea Tomlinson
#20 Broken Clay Roof Tiles For Garden Mulch
Source: Hometalk
#21 Broken Clay Roof Tiles For Garden Water Feature
Source: Pinterest