There is nothing better than relaxing beside a beautiful outdoor water garden in your own backyard, right? Your dream will become true with great ideas that we want to share in this post today. With these ideas here, whether your yard is small or big, you will find one water feature that is suitable for your space as well as your budget. Now, keep reading to explore them with us!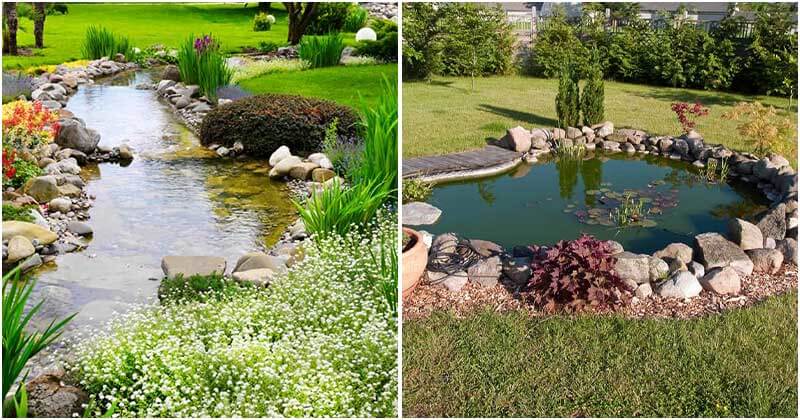 They look so beautiful. To have that beauty you will have to spend your time planting and preparing. But the great results will yield hours of relaxation in nature just footsteps from your own home. So, don't hesitate, save them and make one for your yard. No matter how you want to impress the neighbors or just create a beautiful space where you can unwind at the end of the day, these water garden ideas will keep you preferred.
#1 Peaceful Pond

A water garden resembles a natural pond habitat. This idea is for you, it will help you closer to nature.
#2 Perfect Circle

This small water feature is bordered by bricks, making it a nice addition to the simple gravel patio. Natural plantings soften the perfect circle. A pergola adds height and dimension to this outdoor space.
#3 Garden Gazebo

Adding a wooden gazebo near your water garden will provide ideal shade seating.
#4 Cottage Charm

A miniature water feature can be "just right" size-wise for a cottage garden.
#5 Bold Foliage
Dramatic crimson foliage adds excitement to this garden. It will also create beautiful reflections off the water at sunset.
#6 Tumbling Waterfall

Whenever we see water tumbling over layers of rock, we think of a mountain stream bubbling over the landscape.
#7 Hidden Bistro Table

If you look closely, you will notice a hidden bistro table and chairs. Sitting beside this water garden would be the perfect place to enjoy a cup of tea and a scone on a summer morning.
#8 Mini Waterfalls

This water garden is small, and the landscaping is relatively simple. But the addition of two small waterfalls of varying heights gives it an unexpected twist.
#9 Koi Pond

Koi ponds make us feel as though we've stepped into a Zen garden. When a brightly-colored koi fish catches your eye.
#10 Tiny Watering Hole

Although this is probably one of the tiniest in-ground water gardens, it has plenty of charm. Flanked by arborvitae, irises, a terra cotta pot, and a variety of rocks.