Terra cotta pots can do more than just simple plant containers. The clay pots of natural reddish-orange color are easily transformed into fun and useful crafts. They promise to be a unique addition to your outdoor spaces. Grasp the eyes of all visitors to your home. It's possible. Who do not love seeing beautiful handmade products of the house's owner? This shows off how he cares love his home, and a little bit his creativity, too.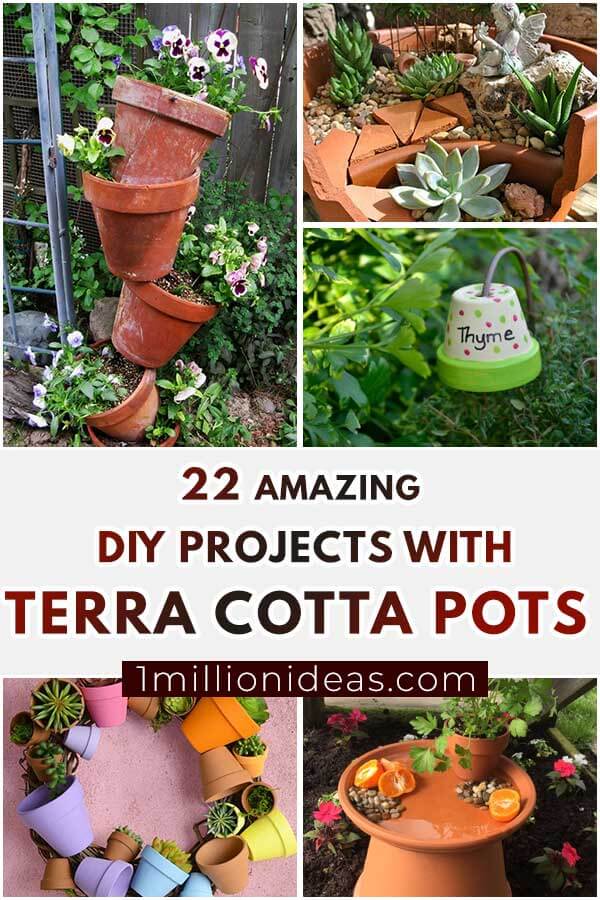 And, this post is about 22 amazing DIY terra cotta pot projects for outdoor space. As they're incredibly fun to make, you feel free to let your kids involve in. You guys will get a lot of fun together. If you are finding interesting on-budget outdoor decorations, these are also right up your street. You can easily find these clay pot, right? Some projects are even made from broken pots. Let's check them out!
#1 Mini Garden From Broken Terra Cotta Pot
This is one of the most fantastic ideas for broken terra cotta pots. If you have these around your garden, just build a stunning mini fairy garden out of them. Look pretty good, right?
#2 Mini Terra Cotta Pot Plant Marker
Your plants would crave these adorable markers. I will apply some for my garden.
#3 Hanging Flower Pot Chandelier
A stunning decor for your garden, right?
#4 Mini Pot Wreath
Is it lovely? Weekend is coming, let's add it to DIY family project. Your kids would get excited with it.
#5 Plant Pot-Meets-Lantern
This rustic light would be striking in your garden at night time. If you're hosting a small outside dinner, just let these shine your space.
#6 Spilled Flower Terra Cotta Pot
It's such a creative flower planter that you should make for your garden.
#7 Clay Pot Critters
Your kids would go crazy for these adorable terra cotta crafts!
#8 Clay Tipsy Pots
If you have no idea for what to make with old terra cotta pots, just give these a go.
#9 Rain Chain
It's an adorable addition to your garden.
#10 Bird, Bee, Butterfly Baths & Fountains
A lot of beneficial wildlife loves this bath. Why not build a beautiful one for your garden?