Your bedroom window can always liven up the bedroom space. There are many exciting things to with this bright corner. You can build a small flower garden on the windowsill, place different plant pots here, or install a small window seat. These designs will become the focal point in your bedroom, making it cozier and more eye-catching. Love it?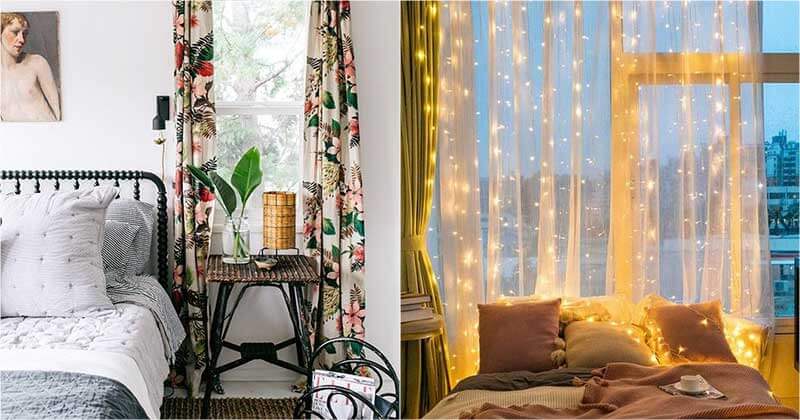 And here are 25 awesome decor ideas to spruce up bedroom window. If you want to bring mall stunning things for your window, these are right up your street. They are on a budget, and great to add to DIY projects. Some of them can even proceed in no time. But they give your bedroom an extra beautiful space and an attractive look. Let's give them a try!
1. Beautiful Window with Vintage-Modern Vibes
2. Bedroom Window with White Curtain and Fairy String Lights
3. Charming Bedroom Window Seat
4. Simple, Rustic Bedroom Window
5. Modern Bedroom Window with Bedside Table and Plant Stand
6. Bedroom Window with Ceiling-Hanging Bed
7. Green Single Shelf by Your Window
8. Budget-Friendly Roller Shades Can Be Beautiful Too!
9. Rustic Windowsill with Glass Bottle
10. Bedroom Plant Window Shelf
11. Boho Bedroom Window with String Lights
12. Modern Boys Bedroom with Pops of Cheery Color
13. Minimalist Bedroom Window Idea
14. White and Grey Master Bedroom Window
15. Cute Bedroom Window Seat for Kids
16. Vintage Bedroom Window Garden
17. Bedroom Window Bench and Storage
18. Small Bedroom Window Seat with a Green Hue
19. Small Working Desk for Bedroom
20. Bedroom Hanging Plant Shelves
21. Stunning Bed Headboard
22. Indoor Plants Bedroom Window Garden