We all love staying in a cozy and messy-free bedroom. But how to keep our bedroom organized even when it's small? Create extra storage space right with furniture here. Your bed is one of them. It can be an exciting storage place. You can install storage racks for clothes and blankets into or under your bed. And this surely makes your bedroom neat and tidy all the time.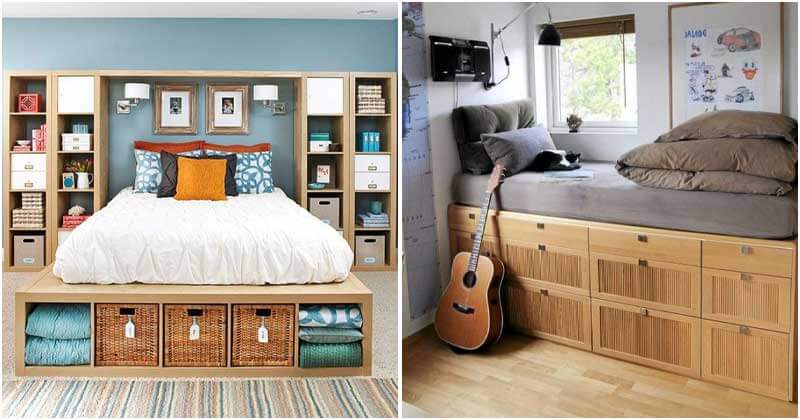 And, here are 23 creative storage bed ideas to add to your pocket. If you are looking for awesome storage solutions for your bedroom, these are right up your street. They don't require any extra space in the room but can keep it tidy and eye-catching. If your bedroom is cramped, you should give these a try right. The storage bed works with my bedroom, and hope that it does the same for you. Let's get started!
1. Turn Bed's Headboard into a Mini Bookshelf
2. Bed with Drawers to Store Clothes and Shoes
3. Modern White Storage Bed
4. DIY under Bed Storage Idea
5. Bed with Extra Storage Space for Blankets and Clothes
6. MASH Studios LAX Series Storage Platform Bed
7. Create Extra Storage Space for Bed Headboard
8. Small Storage Bed Near Window
9. Chic Storage Bed with Drawers
10. A Mini Bookshelf right in Bed
11. Add Extra Open Storage Space for Small Bed
12. Small Bed with Storage Space for Small Bedroom
13. This Storage Bed Surely Keeps Your Bedroom more Organized
14. Bestever Storage Bed Idea!
15. Storage Loft Bed
16. Amish Storage Bench with Drawers
17. DIY Platform Kid's Bed with Storage
18. Twin XL Bed Frame
19. Platform Bed with Stairs
20. DIY Built-in Twin Bed
21. Cleary Captain Bed Pottery Barn
22. Love this Storage Bed for Your Kid's Bedroom
23. Headboard Storage