A beautiful bed makes the bedroom more eye-catching. It's not only comfortable but also makes you fall in love with it. There is nothing better than snuggling up in bed at weekend with a good book and a cup of tea (or coffee) served alongside. You can even turn your sweet small bed into a cinema. Stay here with your laptop and see a favorite movie. If you are looking for a relaxing and entertaining look right at home, your bed will be an excellent choice.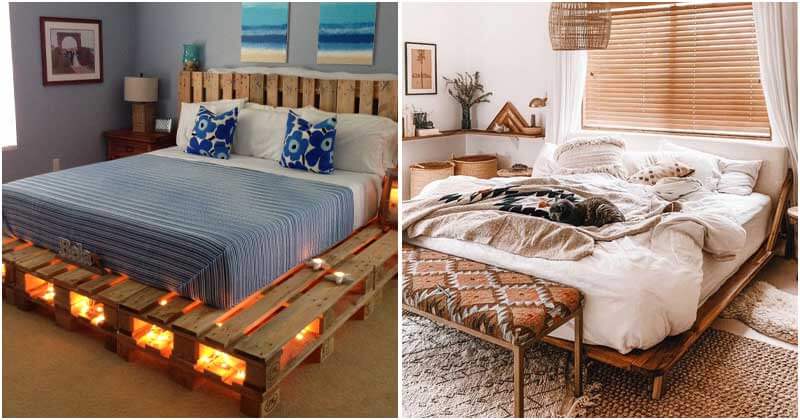 In this post, I'm glad to share 24 of the bed frame ideas to apply for your home. They work with your bedroom and your kid's bedroom, too. The point here is to pick out a suitable and affordable one that fits your bedroom decor style. Some of them can even be added to DIY projects, pallet beds, for instance. If you get enough patience and skills, just roll up your sleeves and give these a try. Let's get started!
1. Cool Pallet Bedframe with Lights Underneath
2. Creative Bohemian Bed for Small Bedroom
3. Simple, Minimalist Flat Bed Frame
4. Cool Twin Bed Frame
5. Love This Cozy Wooden Bed Frame?
6. Basic Walnut Queen Bed Frame
7. Brilliant Bed Frame with Storage Space
8. Hygge-Inspired Bed
9. Walnut Platform Bed Frame
10. Beautiful Wooden Bed Frame
11. Luxurious King Sized Bed Frame
12. Modern Flatform Bed Frame with Dresser
13. Minimalist Bed Frame for Green Bedroom
14. Mid-Century Bed Frame
15. Bergen Oak Bed
16. Gold Metal Bed Frame
17. Storage Bed Frame
18. Teak Bed Frame
19. Hardwood King Sized Bed Frame
20. Modern Zen Box Bed Frame
21. White Metal Bed Frame
22. Simple, Rustic Pallet Bed Frame
23. Low Solid Wood Bed Frame
24. Floating Flatform Bed